Yesterday a couple of friends asked me to lunch – their business was actively giving back to the community but not in a strategic way, and they thought I might be able to lend some advice or pass along some best practices to help their organization make more of an impact. It struck me how often this seems to be coming up! An organization is doing "stuff" in the community – they're volunteering as a group, they're supporting employee-driven causes financially, they're holding drives for food or clothing or books internally – but at a certain point they ask themselves whether the "stuff" they're doing is making an impact.
If your organization is asking this question, first let me say congratulations! It's so very easy to continue on, checking the box and feeling great about your giving program. By examining the impact you make, you're already ahead of most. There is one major growth opportunity I see in terms of business giving, and that's giving TALENT. Giving of your treasure is vital, giving of your time makes you feel connected to the cause, but giving of your talent can be a gamechanger.
More and more, nonprofits are understanding the importance of running their operations like a business – this may seem to be common sense, but the passion and empathy it takes to dedicate your career in service of others often skews organizational decision-making. And that's okay! But as with a business recognizing the value of making an actual impact with its giving program, a nonprofit recognizing its need to leverage operational efficiencies is a huge hurdle to overcome in terms of mindset. Doing "business as usual" in either case falls dangerously short of the intended goal!
If you're in business, think about what you do best and how that talent might help an organization serving the community. If you're a nonprofit, take advantage of the business relationships you have! If a board member builds websites, ask them about your website. If a donor is an expert in project management, ask them for guidance in your upcoming project. Not only is that expertise worth thousands in many cases, but it allows that nonprofit organization to spend its time doing what it's built to do – help others.
---
Joel Coffman – Executive Director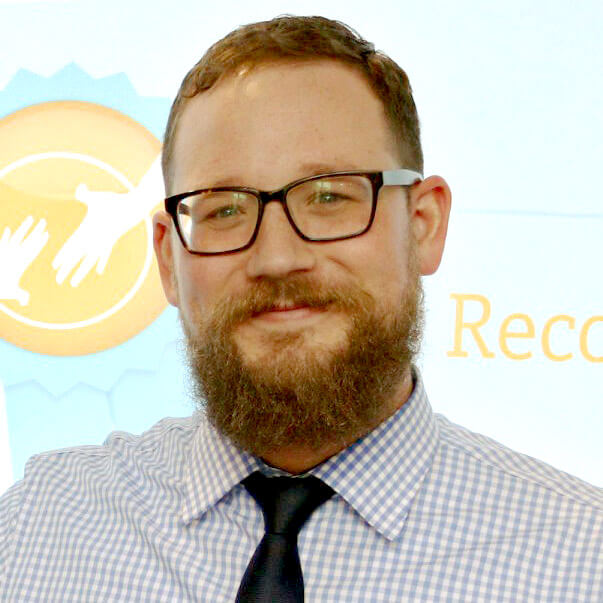 Joel Coffman is the executive director at RecognizeGood. He received a degree in Journalism and Advertising from the University of North Texas in 2008 and has grown with RecognizeGood and its for-profit partner the TyRex Technology Family since 2013. Joel's passionate about strengthening the Central Texas community through GOOD and his favorite part of the job is finding opportunities to connect those selfless servants he meets with each other and extend the "circle of good."