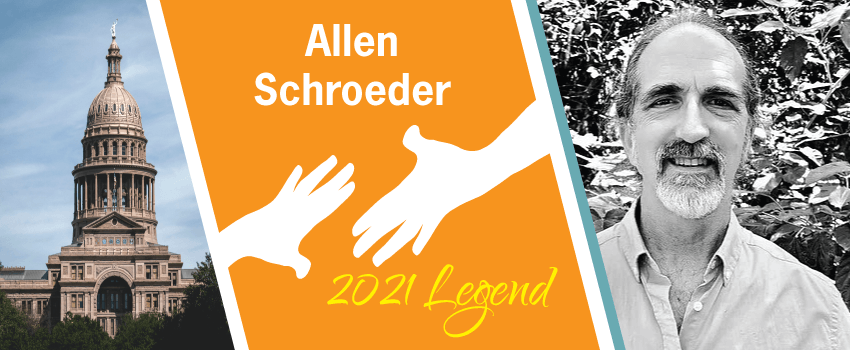 A food-rescuing champion for Central Texas rescues over 2,595,000 pounds of food through his own organization, Save The Food.
A zero-waste enthusiast Allen Schroeder decided while on shift at Wheatsville Food Co-op, a local grocery store, that he could do more to help others and eliminate the waste he saw happening daily. Thirteen years later, Allen is a food-rescuing champion for Central Texas, rescuing over 2,595,000 pounds of food through his own organization, Save The Food.
With 17% of Travis County residents facing food insecurity and 40% of food in the U.S. going to waste, Allen used his grocery store connections to help others. Save The Food's mission is to reduce hunger and food insecurity by providing food to people in need while reducing food waste.
Today, Allen and his team rescue food from 14 different grocery stores, feeding 540 people weekly. Allen works over 40 hours a week for Save The Food but does not accept a paycheck for his role. COVID-19 has significantly changed Allen's work with an increasing number of people needing food and a decreasing number of eligible volunteer opportunities. Save The Food completely remodeled their distribution process and now manages more of the food distribution, instead of the city's community centers.
"Ask anyone in the food recovery business and they will tell you Allen Schroeder will forever make it his mission to feed those less fortunate," volunteer Chelsea Crawford says.
Allen also works full-time at Sprouts and immediately got to work creating partnerships with Central Texas Food Bank to ensure that no food is wasted or sent to a landfill. He also joined Austin-Travis County Food Policy Board's food recovery working group and helped them champion goals like reducing the amount of food sent to landfills, ultimately helping to achieve zero waste by 2040.