Earlier this year, we recognized a man named Jim Scott. Jim's charity – the Austin chapter of a national organization called Mobility Worldwide – makes hand-cranked wheelchairs for people in developing countries who don't have the use of their legs, and Jim has played a part in building close to 1,000 of these life-changing devices over the course of 25 years and change. Jim is well into his nineties at this point, and yet still faithfully gives his time and talent to helping put a handful of these wheelchairs together each week.
Most of the time, I find out about a volunteer going above and beyond for others by way of a conversation with a charity or some media mention, but I actually see Jim doing it with my own eyes because most of his service takes place 15 feet from my office. Both as a simple charitable favor and as a corporate social responsibility experiment, our parent company donated around 200 square feet of space to Mobility Worldwide several years ago – staff and visitors have the opportunity to give back while in our building (good for us), it's good exposure for the charity (good for them), and of course it solved their immediate need while saving them money (good for those they serve). That's a "triple win," as a friend likes to say. Anyway, this space is where Jim works.
Jim rarely says much, but today after he'd put about an hour of work in he walked to my office and lightly knocked. "I'm about to assemble the last wooden chassis. Could I get you to help me?" he asked. Of course I'm always happy to help but this seemed odd to me – Jim never needs help! As we walked back to his workspace it clicked – I knew through the grapevine that these wheelchairs were switching to a long-awaited plastic model, so this was quite literally the last wooden model the organization would ever make. He'd been doing this for 25 years, and this was the end. He wanted to commemorate this moment somehow, so he asked to tag-team the task of attaching the last few boards. He drilled a few anchor holes, tossed some wood screws in my direction and said, "You're up." We worked in silence for about ten minutes and then we were done. I helped him sweep up, he shook my hand and then he left. No fanfare, no applause – just quietly the end of an era for this incredible gentleman.
I get to see a lot of beautiful moments, and hear a lot of beautiful stories just because of my role with RecognizeGood. I don't ever take them for granted, because each one represents a different perspective on goodness. Goodness means giving of yourself to others, but that means something unique and personal to each one of us. For some, it means cleaning up the park or the river with a big group of friends. For others, it means board service or strategic leadership. For my dad, it's meant financially supporting individual families in need. For Jim, it's meant working with his hands in solitude and physically building the boxes that go on to change someone's life thousands of miles away.
I'm sure Jim will find other ways to continue to help the organization he cares so much about, and I know he believes the new model of wheelchair will be better. But after I realized what I'd just been a part of, and remembered I'm in the business of recognizing great examples of goodness, I wanted to share this one quiet moment.
---
Joel Coffman – Executive Director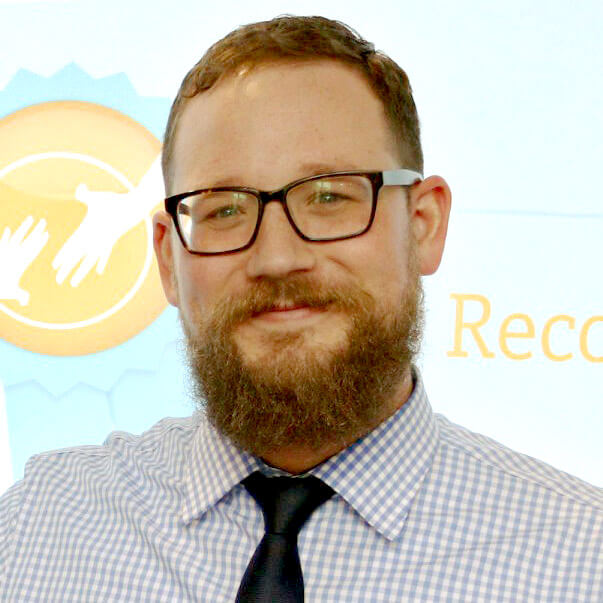 Joel Coffman is the executive director at RecognizeGood. He received a degree in Journalism and Advertising from the University of North Texas in 2008 and has grown with RecognizeGood and its for-profit partner the TyRex Technology Family since 2013. Joel's passionate about strengthening the Central Texas community through GOOD and his favorite part of the job is finding opportunities to connect those selfless servants he meets with each other and extend the "circle of good."