There is ALWAYS something to be grateful for, and there's always someone in our lives to appreciate. Personally, despite spending dozens of hours each week doing a job where I get to seek out things to be grateful for, there have been times when I've forgotten that.
A role like mine makes me a picture-perfect evangelist for how easy and how simple it is to give thanks for the good in the world every day. And yet I can still very easily and simply forget that myself. It's still true though – it is easy, it is simple to recognize good in the world. The positive effects of positivity on your happiness are real. Also – dinner conversation's so much more enjoyable.
But it doesn't come naturally, and it does take practice. That's the intent behind RecognizeGood's "Say Thanks, Austin" campaign – to start each new year off with a commitment to daily gratitude, right when we're all full of resolutions and hope.
One of the cool things about this campaign is that RecognizeGood finds inspiring people worthy of gratitude FOR you! Like a teenager who's grown and donated over 2,500 pounds of produce to hungry neighbors in need. Like a longtime professor who dedicated over 7,000 hours of his time reading to those with learning differences. Like a mother who hand-sews teddy bears for children that lose a parent to terminal disease. If you find it difficult to discover goodness right here in the Austin area on your own, take a look at our most recent RecognizeGood Legend award recipients and find someone whose story inspires you. Then, take some time to say thanks each day this month!
Whether you participate in our campaign or not, though, I encourage anyone reading to give daily gratitude a try in your own way. In our personal relationships, in our business relationships, and even just interacting with those outside our normal circles, acknowledgment is a powerful influencer – don't let its simplicity fool you! When any of us have our heads down, working as hard as we can, and maybe we're even telling ourselves to "just get through it" – think about that record-scratch moment when someone tells you how valuable you are. They tell you that they noticed the selfless thing you did yesterday, or last week, or last year, and that it meant something to them. It's a simple and easy thing, but that moment can often make all the difference.
---
Joel Coffman – Executive Director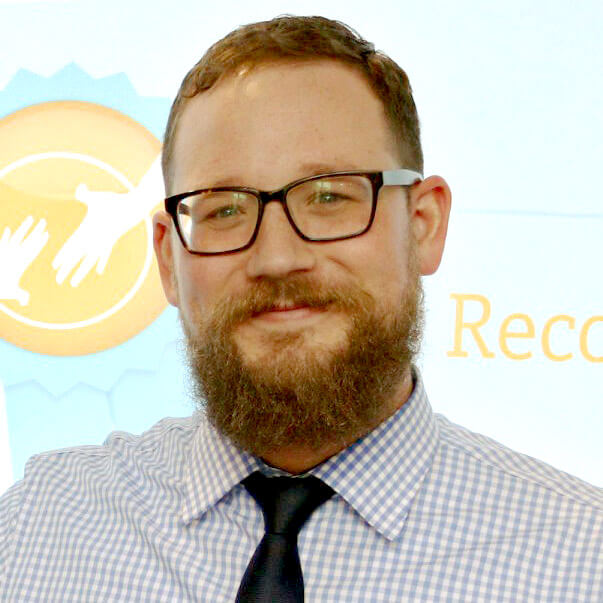 Joel Coffman is the executive director at RecognizeGood. He received a degree in Journalism and Advertising from the University of North Texas in 2008 and has grown with RecognizeGood and its for-profit partner the TyRex Technology Family since 2013. Joel's passionate about strengthening the Central Texas community through GOOD and his favorite part of the job is finding opportunities to connect those selfless servants he meets with each other and extend the "circle of good."