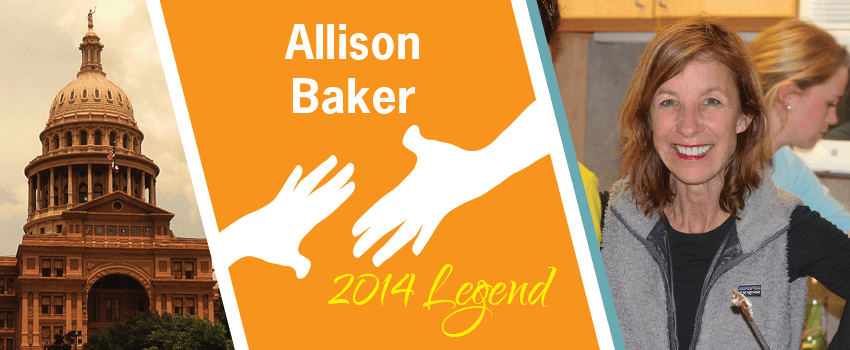 Equal parts motivator and go-getter, Allison's not only recruited over 700 Austin High athletes and leadership students to volunteer with Boys & Girls Clubs of the Austin Area, but has donated over 92,000 "Goode Meals" to Austin's underprivileged.
Allison Baker & Family, Movers and Shakers of the Volunteer World! Allison Baker is a small woman who accomplishes big things, every day.
For more than 7 years Allison and her family have helped thousands of Boys & Girls Club kids. When I first met Allison in 2005 she was helping the Austin Children's Shelter through her organization, Cattlemen Care. I learned in short order that she was helping other great organizations as well, including the Austin Resource Center for the Homeless, the ARCH and the Settlement Home. The first words I heard from her were "I want to do more!"And more she did. One of our core beliefs at the Boys & Girls Club is to instill a sense of community among our members.
As a mom, Allison leads her family of 3 boys and one girl by modeling the best behavior: giving back! In one day Allison Baker creates, cooks, calls, moves, motivates and accomplishes more than most of us do in a lifetime. She's the "poster child" of getting things done.
Allison Baker by the numbers
Here is too short a list of her helping ways through the Boys & Girls Club of Austin.
Donated more than 10,000lbs of beef to the Boys and Girls Club
Personally cooked and delivered (with her children's help) over 15,000 "Goode Meals" (the Goode story alone is amazing as Allison's meals are donated on behalf of the Goode family who lost their son tragically a few years ago. The Baker Family donations come not with their name, but with this inspiring legacy)
Countless delivery missions to the BGC Club kitchens at 630am (!) with her children pitching in before they go to school!!
Sponsored Thanksgiving and Christmas Holiday meals for all of our neighborhood Clubs the past years! And provided more than 100 volunteers!
Organized football, baseball and soccer clinics through Austin High School sports teams for Club kids (5 and counting!)
Steered more than 700 Austin HS sport and leadership kids to the Clubs to give back through Homework Help days, special events and BGCA's National Day for Kids. 7 years and counting* *
Allison's greatest contribution to our kids, among the many, may be her signature leadership of our National Day for Kids each September. No event is bigger and bolder in its mission to provide Austin kids with an entire day of their own. Mother's Day and Father's Day pale by comparison thanks to Allison's passionate leadership and direction.
For the past 7 years Allison has helped make the Club's signature event one of kids-giving-to-kids.  More than 100 Austin High students-athletes run the event each year with only minimal help from Club staff. Football players, baseball players, girls soccer players, volleyball players, and the AHS Cheerleaders all pitch in to give more than 600 kids a day they will remember for a lifetime. The student-athletes cook hamburgers (Allison's kids man the grills!), run sport clinics, paint faces, set-up, and clean-up for all activities. More importantly, each AHS student gets paired-up with a Club member – their "buddy for the day."
On top of the kids she recruits, Allison pulls in coaches, advisors, parents, grandparents and friends. It's a site to behold! Part of our mission at the Boys & Girls Club is to inspire and enable all children, especially those who need us the most. We never dreamed one wonderfully small woman and her family could impact our 10,000+ members so dramatically and powerfully. But that's just what this mover and shaker does.
Brian Beaulieu, Boys & Girls Clubs of the Austin area