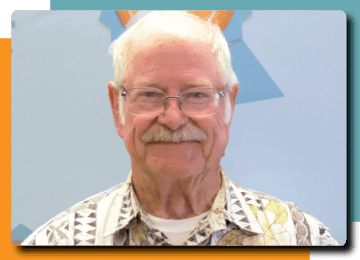 Over the last 10 years as a volunteer driver for Drive A Senior, Bill Miller has provided over 760 volunteer drives equal to more than 17,000 miles.
Willie Nelson's famous "On The Road Again" might be a fitting theme song for Drive A Senior volunteer Bill Miller. Since he began volunteering with the organization in 2007, Bill has provided over 760 drives to Central Texas seniors ranging from doctor appointments to grocery shopping. That translates to an estimated 17,000 miles of volunteer driving!
Retired from the U.S. Air Force, Bill is known as an extraordinarily devoted and dependable volunteer driver. Drive A Senior was launched in 1985 to fill in the gaps left for non-driving seniors when family members, public transportation or taxi services proved unreliable or expensive. Today the nonprofit provides services to more than 20,000 Central Texas seniors. Bill has taken the group's mission and made it into a reality for countless Austin-area seniors who want to continue to live active and healthy lifestyles. It's not unusual for Bill to drive four times a week, often driving more than once per day. "On top of that," says West Austin Drive A Senior Executive Director Martha Stuber, "Bill is always the first to volunteer to do the minor home repair and yard work that our clients often need. He once volunteered to 'rake a few leaves' for a client that ended up taking him more than 30 hours to complete. He's painted, fixed lighting and just about any other type of home repair that senior clients need to be able to stay safely in their own homes. He goes way, way beyond what a normal volunteer does for us."
During his drives and other volunteer 'duties', Bill has encountered many clients who need extra care – one-hour appointments that last for four or five, reassuring clients who are anxious about a doctor appointment, or any other form of intangible assistance that a client may need. He also drives veterans in need of medical care to and from the Veterans Administration clinic in Temple once a way, which he's done since 2007.
"Bill doesn't talk much about all the drives and chores he does for other people," Martha says. "He shows how to be a volunteer leader in his quiet actions. He never complains about the drives or duties he's asked to perform, or the amount of time they take. He's always pleasant with staff and clients, and never expects any fanfare or attention. Because of Bill and volunteers like him, hundreds of older adults are able to stay in their own homes."
---