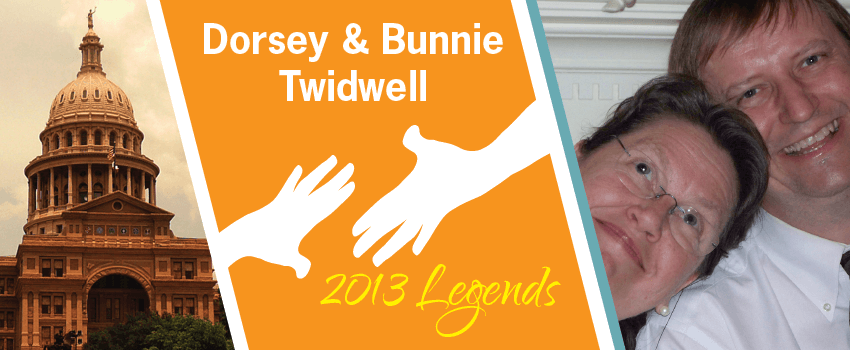 As the driving force behind the Zilker Kite Festival for the past 14 years, Dorsey & Bunnie each dedicated over 800 hours to last year's event alone, which raised more than $10,000 for Communities in Schools.
We had the wonderful privilege of kicking off our first Legend ceremony of 2013 by honoring two amazing people – Bunnie and Dorsey Twidwell. The Twidwells' were recognized as our first Legends for this year, in a ceremony held on Wednesday, March 27th, at 12:45pm, held at the Holiday Inn. During the ceremony The Austin Exchange Club received a $1,000 pay-it-forward donation in Bunnie and Dorsey Twidwell's name from RecognizeGood
—–
As members of The Exchange Club, the organization that owns and organizes the Zilker Kite Festival, Bunnie and Dorsey Twidwell are the driving force of this event that raised over $10,000 for Communities in Schools (with a focus on the Pebble Project) last year. Their personal volunteer time for the 84th Zilker Kite Festival is upwards of 800+ hours, each. They have been responsible for project management for 14 years of the 84-year-old festival.
– Les Stobart, Bobby Jenkins