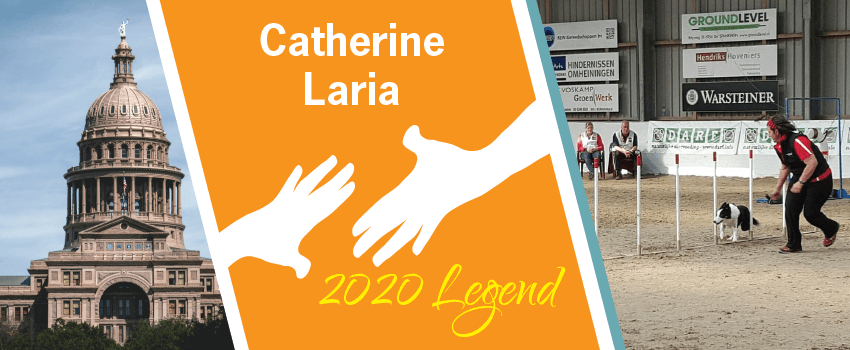 Agility Trainer uses talents to save a program vital for the growth of incarcerated women.
Carrying on the legacy of Paws in Prison founder Machelle Gaconnet, Catherine stepped up to fill incredibly big shoes to help rehabilitate over 1,000 women inmates through canine therapy. 
Catherine Laria has been working with animals for over 20 years. She is the owner of K9 Country Club in Bulverde and has been bringing her expertise to Paws in Prison since 2016. Paws in Prison helps teach women love, compassion, and responsibility while teaching them valuable skills within the Animal Care Industry through training shelter dogs.  The program is instrumental to these women as they are paroled into society as better, productive citizens. The dogs are then made available to adopt into loving homes.
Having Catherine on board as a professional dog trainer has been a huge asset to the program. For more than two decades, Catherine has competed in a variety of dog sports and competed at the highest level throughout the country and internationally. Her trained dogs have been finalists in regional and national competitions every year since 2010, earning multiple titles and countless medals! Her expertise is unquestioned and brings the professionalism and proficiency that makes Paws in Prison thrive.
In 2019, tragedy struck as the organization's founder, Machelle Gaconnet, unexpectedly passed away. Catherine immediately stepped up and reorganized Machelle's program to reach new heights. Catherine has spent the last year with a new board rebuilding the program, driving an hour-and-a-half to the prison multiple times a week, and even took a pay cut to help out financially.
"Without a doubt, Catherine's involvement has kept Paws in Prison alive and thriving. We would have been in jeopardy of shutting down if she had not stepped up," Jennifer Keaton, board president for Paws in Prison says.
Catherine's ability to add structure to the women's dorm has been essential. She created "levels" that the inmates can earn, from freshman to senior, giving them the recognition needed to graduate through the program and receive a new dog to train. The levels and certifications Catherine brings to the program encourage a higher amount of participation from the women in the prison.  To date, the program has trained nearly 500 rescue dogs that would have met their fate at a kill shelter and thousands of women have been influenced.
Catherine's ability to carry on Machelle's vision matched with her technical skill and passion has had a major positive impact on the animals and the people involved with Paws in Prison. Her impact and training program has taught many valuable lessons in patience, responsibility, accountability, compassion, and empathy. Many graduates of the program have noted that joining Paws in Prison turned their life around and gave them the tools they needed to help them stay out of correctional facilities in the future.