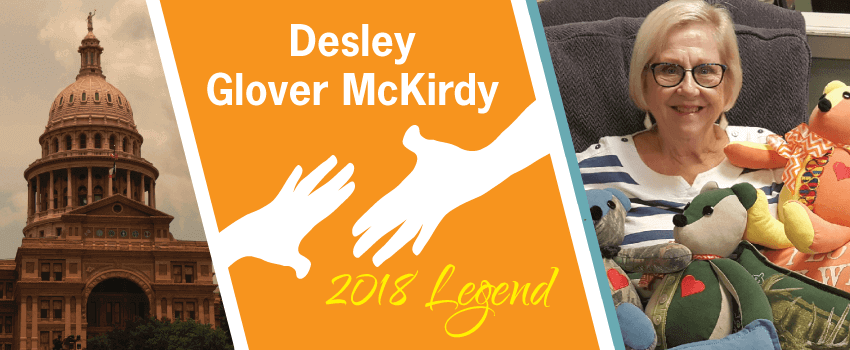 Desley Glover McKirdy has hand-sewn over 100 teddy bears for children dealing with the loss of a parent – each bear is made from the clothing of a parent who has passed away, giving children who receive them an invaluable tangible memory of their parent.
For an adult, death is a difficult, inevitable truth. For a child, the death of a parent can be absolutely traumatizing. And likewise, so can a grave or chronic illness. One woman has found a truly special way to help those children dealing with a lost parent – by hand-sewing teddy bears made from the clothing of a parent who has passed away. Desley Glover McKirdy has been volunteering with Austin nonprofit Wonders & Worries for several years, but in taking over the bear-making role from her friend Anita after her 'retirement' she's found a priceless way to impact grieving children with her time and unique talent.
Rebecca Sharp and her children were the recipients of one of Desley's bears. "To call Ms. Desley's creations 'bereavement bears' really doesn't do them justice," Rebecca says. "They are so much more, more like creative works of art. To us, our bear is a member of the family – he offers a place to bury your face when the lightning flashes and the thunder roars. He offers a warm hug after a bad day at school and comforts you as you drift off to sleep. But the most important thing our bear gives us is the beautiful memory of Michael, and that is irreplaceable. We can't thank Ms. Desley enough."
Desley's impact on bear recipient families is long-lasting and heartfelt. She is a widow herself, as well as a proud mother of two. "Desley is a very special person who does something unique, which touches the lives of many children," says Nicole Halder of Wonders & Worries. "She always adds extra flair to each bear with buttons, scarves, backpacks, blankets – you name it!" The personality of each bear is different, but each is made with very intimate and painstaking care that tells a common story of love and empathy. Volunteers ordinarily give their time, talent or treasure – but Desley gives all three freely, without ever asking for anything in return. She's created more than 100 bears with hours poured into each one – delicate and expert stitching underpinning whimsical creativity. But ask anyone who's used one of the bears Desley created for a pillow, a punching bag or a simple embrace, and it's easy to see that the greatest treasure she gives others isn't counted in dollars at all.