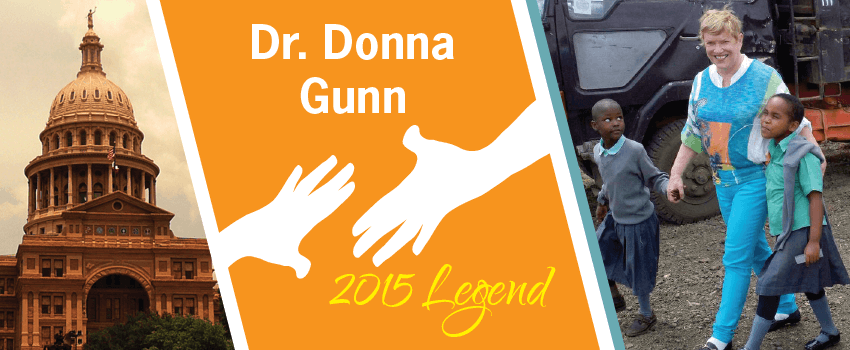 After witnessing firsthand the disturbing conditions of Maasai children in Tanzania, Donna Gunn launched Africa's Promise Village and is taking it upon herself to turn their lives around. 
Dr. Donna Gunn didn't know how, but she knew she wanted to help. A lifelong teacher, Donna visited Tanzania on safari in 2010 and was staggered by the deplorable conditions, widespread malnutrition, and utter lack of education she found in the tiny villages of the semi-nomadic Maasai tribe. Having worked in education her entire career, Donna was especially moved by the children she met, and promised to dedicate the rest of her life to helping these children and their communities. Since then, her nonprofit Africa's Promise Village (APV) has provided the Maasai people of Arusha with everything from food and water to prosthetic limbs – and Donna shows no signs of slowing down.
APV works with many schools and orphanages in Tanzania to provide financial support and teacher training, including the Intel School and Arusha Primary School, both located in Arusha about 40 miles west of the famous Mount Kilimanjaro. The needs of the children in Arusha are many, and so the ways in which Donna has found to ease their hardships are many as well. "'Mama Donna' has a heart of gold," affirms fellow APV volunteer K.R. Wood. "She is constantly starting new projects to help the people of Tanzania." From collecting clothes, medicine and school supplies to finding sponsors for more than 20 orphans, she continues to find new and creative ways to support the children in Arusha. In one success story, Donna created a chicken and goat project for an Arusha orphanage who was struggling mightily with food supply. Today, the orphanage has such an abundance of food and livestock that they're able to sell the overflow for profit. Donna, a member of Lakeway Rotary Club, also secured a grant from Rotary International to drill a series of wells that will bring clean water to over 37,000 Maasai people. She personally sponsors a young girl named Kodogo and her sister Rebecca – Kodogo, who was born with a deformed right leg from the knee down, was forced to walk on her knees at the age of 3 and was effectively shunned from her community as the deformity was viewed as a bad omen. Thanks to Donna, Kodogo now walks tall and proud with the help of a prosthetic leg.
Donna's enthusiasm is infectious. Now in her 70s, she organizes and leads two trips each year to the most remote parts of Tanzania, bringing groups of volunteers that range in age from 20 years old to 80, along with roughly one ton (2000 lbs) of supplies. "I have never met anyone quite like her," says former colleague Jonathan Stroud. "Dr. Gunn is the type of person who inspires you to work harder, give more liberally, and find ways to make a real difference in the lives of young people." Donna's passion has even prompted many Lakeway-area volunteers to take on their own efforts to raise money for the children of Arusha. Karina Duque is one of those volunteers who caught Donna's fervor. "Donna gave me such a great gift," Karina says, "by creating Africa's Promise Village and giving me the opportunity to travel to Africa, help others, and realize that I can make a difference. THAT is what a legend is to me – a legend makes something that one would normally think is impossible to do and makes it possible. They show us how it's possible by doing it and therefore it becomes possible to us. That is huge, as that is life transforming!"
I think a lot of people dream that 'one day' they would like to go to Africa and work in an orphanage," Karina continues. "Donna makes that one day TODAY!"