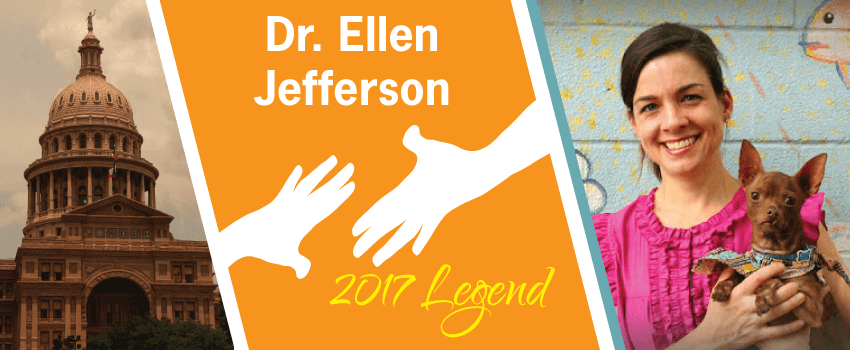 Dr. Ellen Jefferson has helped save the lives of over 50,000 animals in Austin alone since joining Austin Pets Alive!
It would be difficult to find someone who's made as large or far-reaching an impact on Austin's animal community as Dr. Ellen Jefferson.  Recognizing the needs of key groups of animals that had little hope of surviving life in a shelter, Ellen launched innovative no-kill programs now being replicated across the country, and since joining Austin Pets Alive! (APA!) in 2008 she has helped save the lives of over 50,000 animals in Austin alone.  Due in large part to her tireless efforts and pioneering programs, Austin is now the largest city in America with a no-kill status.
"This year alone, we've been able to save approximately 4,387 animals directly from euthanasia lists largely thanks to her passion and the foundation on which she built this organization," says APA! marketing manager Rebecca Reid.  "Dr. Jefferson started her no-kill work in her bathtub and her home. As a vet, she was able to pull sick animals from shelter euthanasia lists and treat them at cost to save their lives. The first parvovirus clinic was in her bathroom.  Now, this first-of-its-kind program has saved more than 1300 lives in Austin alone."  (Canine parvovirus, or parvo, is an acute, highly contagious disease, mostly occurring in puppies between 6 and 20 weeks.)  In another groundbreaking effort, Ellen started a neonatal kitten nursery, originally run out of a trailer that she bought herself.  The clinic is modeled off an equine program that fed orphaned horses. Today, APA!'s neonatal kitten program saves more than 1500 lives every year and is a major reason that Austin can remain no-kill.
"Ellen is an inspiration to animal lovers everywhere," says Rebecca.  "She is a humble, loving person that wants the best for animals and does everything she can for the good of the animal community."
---