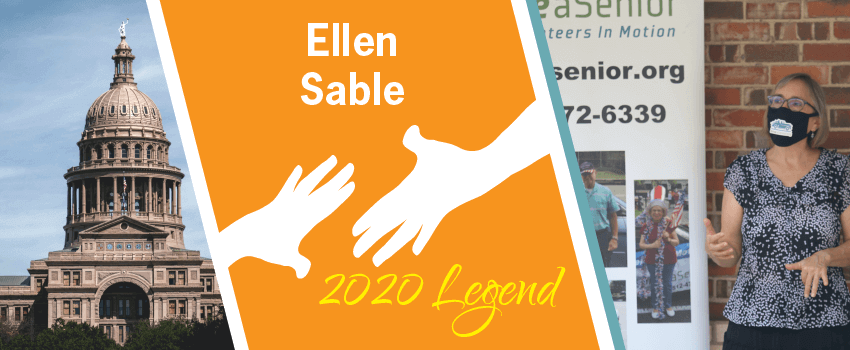 Decades dedicated to those in need.
For 24 years, Ellen Sable has volunteered with Drive A Senior – West Austin, not only as a driver but as a powerful force in the board room.
Ellen Sable has been volunteering with the West Austin region of Drive A Senior for almost 25 years, and in that time she's driven hundreds of homebound seniors to vital medical appointments. This service to Austin's senior community is just one facet of Ellen's volunteer impact, but her dedication to enabling older adults to live independently and age in place has directly affected so many individual people that on its own this facet is truly inspiring.
For the past 10 years, Ellen's also dedicated hundreds of hours as a board member, helping lead the organization to new heights in service to their mission. She's shown a willingness to roll up her sleeves and get things done that's been described as unmatched, even taking a lead role during difficult legal and operational decisions for the broader collaborative Drive a Senior Network.
"Ellen's care and dedication to the Austin community is incredible and highly honorable," says Executive Director Stephanie Lane. "We are so lucky to have her with our agency.
Board member Mitchell Brown adds, "Her dedication is incredible – she seems to have a neverending supply of energy toward this mission. She's a great communicator, she's very selfless, and she takes her volunteer work very seriously – Ellen always finds a way to get it done."
In her near 25 years as a volunteer, she has driven almost 7,800 miles in her 740 trips for Drive A Senior West Austin and dedicated over 2,000 hours to those in need.
Truly passionate about giving back to our community, Ellen is also a member of Congregation Beth Israel where she dedicates her time as a volunteer lay leader and an educator for young people preparing for their bar and bat mitzvah ceremonies, a coming of age ritual for Jewish children.  In addition, she works with other interfaith organizations on advocacy and service projects.