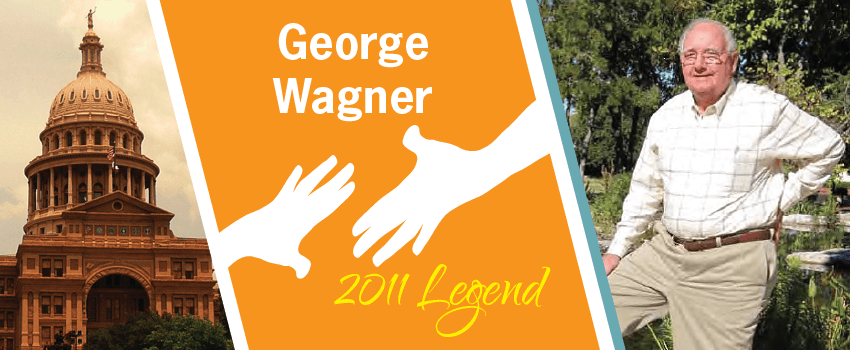 We are saddened by the passing of 2011 Legend George Wagner on December 24th, 2021.
The "Rock Star of Mentoring", George has volunteered with Georgetown Partners in Education since 1997, mentoring on average 3-5 children a year and spending about four years with each child. He's also inspired academics in thousands of students through his own Junior University projects.
Georgetown Partners in Education (PIE) would like to recognize George Wagner, PIE Board member and longtime PIE Mentor and Tutor volunteer serving the students of GISD, as a legendary volunteer in our community for "Legends of Recognizing Good".
George is a legend in our community for volunteering his time, talents and skills to help improve the public schools in our community.
His legacy spans well over a decade of volunteering to help GISD students reach their potential. George has volunteered with Partners in Education since 1997. He mentors on average three to five children a year; spending about four years with each child. He has also inspired academics with thousands of students through his development of Junior University group mentoring projects under PIE. He has served as a PIE board member for seven years, recruiting and training hundreds of new mentors and tutors throughout our community. He has planned, implemented, and participated in numerous school projects to help students on every campus in GISD, from planning the "Great American Reading Days", golf and group hobby clubs, mentoring, tutoring, 50 states and 50 career learning projects to campus science fairs.
George has shared his personal and material resources with public school children for over a decade. His service is self-motivated, often by the desire to inspire at-risk students to stay in school or to improve the morale of teachers and staff. Not only does this unsung hero raise students' self-esteem, he contributes to the academic success of the children whom he mentors.
Recognized by the Texas State Board of Education, George Wagner is one of fifteen distinguished volunteers from school districts across Texas with the "Heroes for Children" award based on his hard work and contributions to students. His name is engraved on a plaque that is permanently displayed at TEA headquarters, to share with others the legacy he has created.
Referred to as the "Rock Star of Mentoring" and known as a "Giving" person and "Listener" of the needs of the schools and students, George Wagner has devoted his passion to serving Texas kids because he cares. His desire to help children succeed has benefited thousands students of GISD through the programs of the Georgetown Partners in Education. PIE is honored to recognize George Wagner as a distinguished and legendary volunteer of the Georgetown Independent School District and our community.
Sincerely,
Laura Antoine
Executive Director
Georgetown Partners in Education