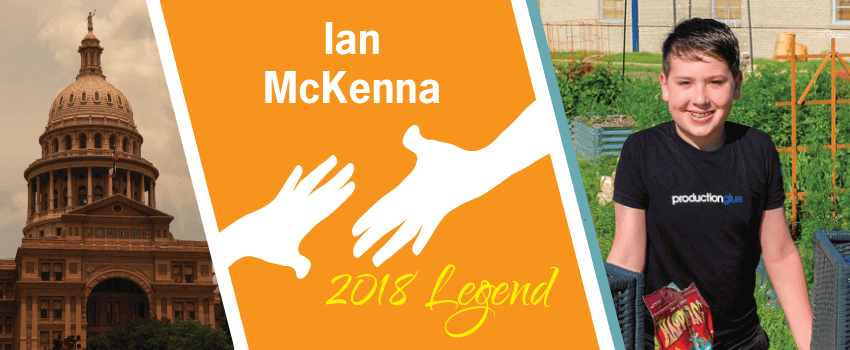 When 8-year-old Ian McKenna learned about classmates going hungry, he started donating produce from gardens he planted and cultivated himself – today he's grown and donated over 2,500 pounds of fresh produce to his neighbors living with food insecurity.
It was supposed to be an educational conversation among first-graders about Christmas traditions around the world. But one little girl was crying. "She broke out in tears and said, 'Santa's never come to us, he hates us because we're poor,'" Ian McKenna recalls his sister, Addison, telling him this story one day after school at Oak Hill Elementary in late 2012. Ian had to do something. So he hatched a plan with his family — on Christmas morning, they, along with Addison's teacher, would fill in for Santa, showing up at the little girl's door with a trunk full of toys and food. "We gave them the presents and the mom and dad started crying out of joy," said Ian, now 13. "It was touching. It made me think, 'What else can I do?' It felt really good."
Soon after, Ian learned he had classmates who ate only school-provided breakfast and lunch each day and never got any dinner. "It definitely made an impact on him," said Ian's mom, Sarah McKenna. "Prior to that he had no knowledge that there were kids that went to bed hungry. It was so unbelievable to him." Once again, Ian had to do something. So in March 2013 he started a garden at Oak Hill Elementary available to anyone who wanted to use it.
Soon, Ian opened a second garden at Sunset Valley Elementary. Then, he was invited to become part of the Katie's Krops growing family, which allowed him to create his own backyard garden filled with vegetables. In the first year, Ian grew 750 pounds of vegetables, all of which were donated to places like the Central Texas Food Bank.
The gardens alone weren't enough for Ian. The eighth-grader at Kealing Middle School decided he wanted to host a dinner for his neighbors in need of a healthy meal. He set a date, chose a menu incorporating his garden-grown veggies, and appealed to the Austin community for additional food donations. He worked with local nonprofit Keep Austin Fed and a Trader Joe's grocery to bring in the extra food he'd need, then joined chefs with Sodexo; the Frank Erwin Center's in-house caterers, to prepare the meals. In all, Ian's meal fed 350 hungry Austinites.
"Personally, I'm astonished," said Sarah McKenna, Ian's mom, adding that Ian is already making plans to host monthly dinners and to work with the City Council to increase his outreach. "I think there's a lot of things he's done, and the most amazing part to me is he doesn't understand the impact he's making. For him, it's just very natural, like, 'Why don't other people do this?'"
---