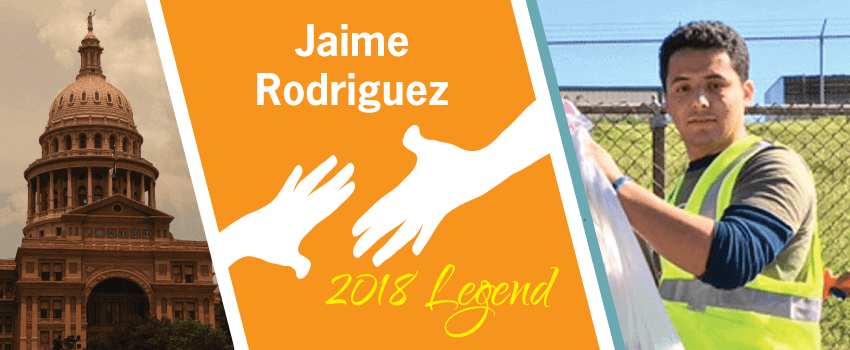 The above-and-beyond volunteer spirit of teen Jaime Rodriguez has not only impacted Austin's environment through Keep Austin Beautiful but has set a great example for his classmates.
While attending Lanier High School (now renamed Navarro High School), Jaime Rodriguez began volunteering for Keep Austin Beautiful, contributing hundreds of hours to green-themed service projects and activities. Jaime's commitment to the environment first started when he joined the Keep Austin Beautiful Green Teens Program – a program designed to engage students in planning and carrying out service projects. He soon emerged as a youth eco leader, finding new and creative ways to take action, recycle, and reuse objects in order to reduce waste.
Jaime has now volunteered for Keep Austin Beautiful in virtually every possible way – he built and cared for his school's native plant garden, single-handedly removed 23 bags of recycling and 32 bags of trash along Little Walnut Creek, created guidelines for his Recycling Relay program, ran a full Earth Day event, promoted Green Teens among his classmates while going door-to-door promoting community cleanup projects, and even made a groundwater infiltration model for middle school students at Lanier's Student Choice Fair. Jaime also planted a monarch pollinator garden – including hauling the limestone rocks for the border – that's now home to 50 native milkweed plants.
Jaime's Green Teens sponsor, Ms. Colasanti, shared a story of how Jaime's efforts are more than acts – they serve as a catalyst for all things eco at Lanier. "Last year when I was out sick, Jaime messaged me to ask if I was coming to help with the Recycling Rangers. Recycling Rangers are comprised of Green Teens and other Lanier students who use their lunch hour on Fridays to promote recycling. When I confirmed I would not be in that day, Jaime took the lead. That afternoon I received several messages from other teachers who Jaime had recruited to help collect compost. After rallying teachers and students, he talked to the lunch ladies and obtained a huge empty trash can where he and the others collected over 50 pounds of compost that day."
Jaime's commitment to the environment and countless hours of service have not gone unrecognized – being named the 2016 Keep Austin Beautiful Award Winner in the Youth Achievement category for his efforts at Lanier as well as throughout the Austin community.