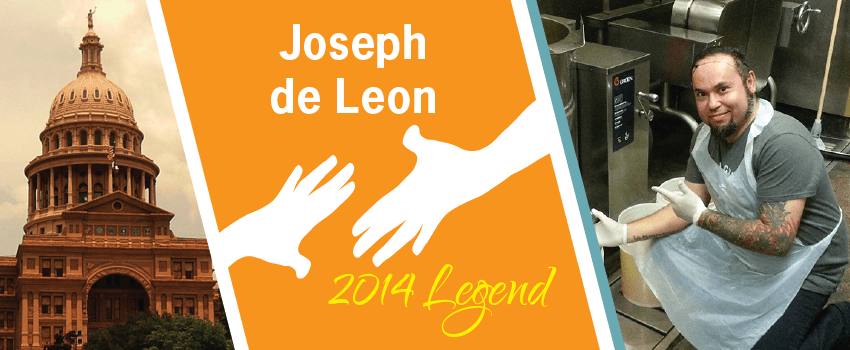 Since joining a grass-roots project called Keep Austin Fed, Joseph has transformed the group into a food rescue powerhouse which saved over 500,000 meals in 2014.
When Joseph de Leon first began volunteering with Keep Austin Fed (KAFed), he quickly became hooked.  The organization's mission was simple:  rescue healthy surplus food from area restaurants and get it to hungry neighbors in need.  After all, one out of every seven people in Austin is hungry.  But Joseph took KAFed to the next level, says founder Randy Rosens.  "Joseph was instrumental in raising us from a few people saving a little food into a bona fide Food Rescue Movement."  Under Joseph's leadership, KAFed currently saves over 11,000 meals each week.
Donors like Whole Foods, Snap Kitchen, My Fit Foods, Tacodeli, and Trader Joe's all contribute to the food rescue movement launched by Keep Austin Fed and championed by Joseph and over 225 registered volunteers.  Recipients include Easter Seals, SafePlace, Foundation Communities and Caritas, among others.  "It's really kind of like Match.com," explains Rosens.  Before Joseph joined KAFed, much of the matching was made by simply visiting local restaurants door-to-door.  Now, both donors and recipients can easily sign up online and food rescue coordination is almost a science.  Rosens says this is a credit to Joseph, who typically puts in a full-time job's worth of volunteer time with KAFed each week on top of his job with the state's WIC program.  "Joseph juggles the many, many components that keep this tremendous amount of food out of the waste stream and into the hands and mouths of those in our community who need it most," says Rosens.  "If [Keep Austin Fed] was going to become something big, it needed the right people to shepherd it to the next level.  And Joseph presented himself to be that person."
Success stories like 1200 meals rescued in June 2014, or the rescue of 10,000 pounds of food from Whole Foods' Gateway store in one hour, have earned Keep Austin Fed a reputation around town.  "This food would have otherwise ended up in a dumpster," says Rosens. "Now it feeds our hungry neighbors.  Joseph is a leader in our community's commitment to change for the better. He makes Austin a better city – he changes the lives of thousands of people every week. I am now proud to call him my friend. He is a hero!