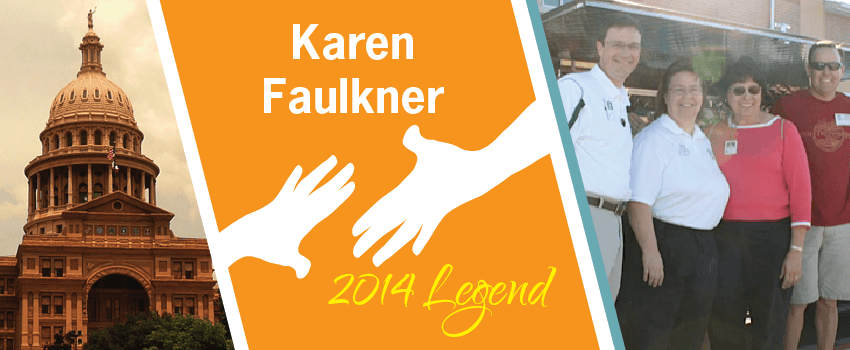 After noticing some Leander ISD students eating little to nothing on the weekends, Karen launched Student Charities to do something about it – since 2009, the organization has sent over 22,000 backpacks full of food home with students on the free or reduced lunch program.
In 2009, Wiley Middle School registrar Karen Faulkner saw that several children in her school district were eating little to nothing on the weekends, and decided to do something about it.  She began to organize and gather food to be sent home in backpacks to children on the school's free and reduced lunch program, starting small with just a handful of backpacks.  Over the past five years, the program has blossomed into what is now called Student Charities – and has sent home over twenty-two THOUSAND backpacks.
"Some people see someone that is hungry and they think, 'That is so sad,'" says Student Charities volunteer Kathy Groom.  "Karen Faulkner is the kind of person that sees hungry people and gives them her food.  That is her passion – helping others and trying to ease their burdens.  Her legacy is making life a little bit better for so many in our community."
Student Charities became an official 501(c)3 organization in 2013, after Karen wrote the by-laws and pushed through the long tax status application process without letting the backpack program miss a beat.  Along with the backpacks, the group sends home Holiday Food Boxes containing enough food to feed a family of four for the two-week holiday break, as well as Nurse Care Packages containing healthy snacks for nurses on 16 different campuses to give out to hungry students. Along with Student Charities, Karen has also been active with PTA boards, Band Boosters, Saint Thomas More Church, Mobile Loaves & Fishes, and other organizations.
"She has one direction – helping others!" says Student Charities Fundraising Chair Sara Milam.  "If there is a need, Karen helps to fill the void."  Sara remembers first meeting Karen through Mobile Loaves and Fishes (MLF).  "She held a full time job, raised a family and spent every free moment helping MLF," Sara says.  "Karen is [now] creating a healthier generation of kids by providing food to alleviate hunger in our community.  Karen is my hero.