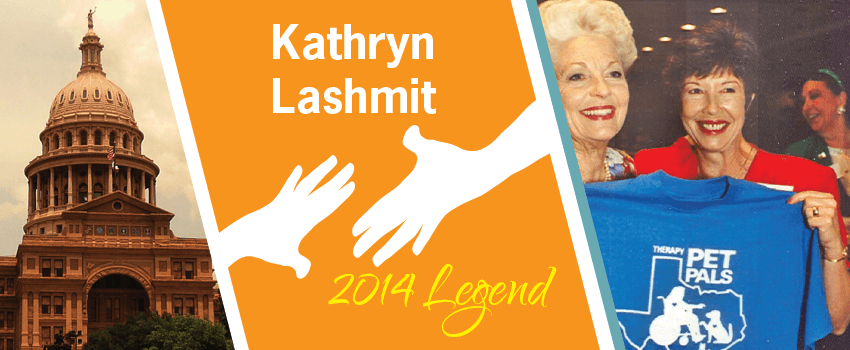 Since planting the seed for Therapy Pet Pals of Texas over thirty years ago, Kathryn and her therapy dogs have volunteered more than 12,000 hours and driven over 30,000 miles to bring smiles to nursing homes and hospitals across Texas.
RecognizeGood is proud to honor Kathryn Lashmit as our May 2014 Legend award winner! Kathryn planted the seed for Therapy Pet Pals of Texas (TPPT) over thirty years ago, when she became inspired by an article on an experimental pet therapy program and visited a local nursing home with her little Pekingese. The smiles on the faces of those first residents kept Kathryn pushing forward as she ran the organization out of her bedroom for the first seven years, donating over twelve thousand volunteer hours and almost thirty thousand miles driven all on her own. Today, TPPT has over 225 certified volunteers, who serve in 90 nursing homes, healthcare facilities, assisted living facilities and intensive care wards – and who, over the course of the last thirty years, have donated over 250,000 volunteer hours, resulting in over two MILLION smiles.
Hays County District Attorney Sherri Tibbe, Kathryn's niece, remembers, "It was a joy for me to watch her and just see what she did with the organization over the years – for the first ten years she and my uncle ran Pet Pals. They wrote the checks, they did everything for free, they never asked for any money in return – just going to the nursing homes and giving love." Although Kathryn reminds us that "Pet Pals is God's organization!" she has truly been the rock and driving force behind this incredible organization, donating over 42,000 volunteer hours herself, and building the structure that's kept the wonderfully successful organization in the business of smiles since 1984. "A lot of nonprofits don't make it thirty years," says TPPT Deputy Director Kathy Grosch, "and because of this lady, we have made it thirty years. God gave her the amazing ability to make everyone feel welcomed, comfortable, accepted, and valued. And we are just thrilled that she has been selected as the 2014 May honoree of the RecognizeGood Legends program.
---
After living a life of grace, humility and compassion, Kathryn Lashmit passed away peacefully at home on Friday, October 28, 2016. The epitome of a true lady, she lit up every room she entered with her lovely smile and twinkling eyes. She exuded joy and delighted in all things – especially pet therapy – and inspired the same in the people around her. We who knew and adored her will miss her gentle spirit, enormous generosity and her love of people, animals and life!
Kathryn "Katty" (Ross) Lashmit was born November 11, 1942 to the late Chick Ross and Allene Wikoff Ross. She is survived by her husband of 45 years, Jimmie Lashmit; one sister, Bobbie Sue and husband Ed Tibbe; five stepchildren and many nieces, great-nieces and grandchildren.
Kathryn lived in Texas for almost 50 years. She and her husband founded Therapy Pet Pals of Texas 32 years ago and it is now a statewide organization. She resigned as Executive Director in July 2016 due to her failing health, but her legacy will be carried on by the many volunteers she trained in pet theapy.
Kathryn and Jimmie traveled home to Ohio frequently for special visits with family and friends. Her last visit to Ohio was for her 50 year high school reunion in 2010. She will be greatly missed by all who knew and loved her.