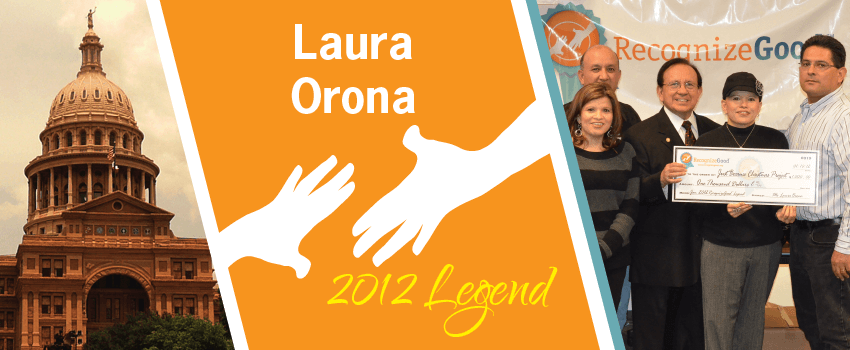 Active with the Just Because Christmas Project for the past 20 years, Laura's passion for children refused to fade as she kept volunteering any way she could despite dealing with Stage 4 colon and liver cancer.
Laura Orona is the RecognizeGood® Legend for January 2012. Orona has been active in the non-profit organization, the Just Because Christmas Project, for the past 20 years. The purpose of the organization is to serve underprivileged families that do not get help from other agencies by providing gifts and food during the holiday season. With help from the community the group has been able to sponsor nearly 600 needy families for 2011.
Orona was nominated to be a Legend of RecognizeGood® by her friend Kitti Williams. "As Laura deals with Stage 4 colon and liver cancer now, her passion refuses to fade and she continues working, answering phone calls and sending emails even from her hospital bed. She will continue to sit outside of Mass and greet the church members, and spread the spirit of giving to make sure these children don't go without this Christmas," said Williams. "I have had the pleasure of seeing the impact she has had on so many lives, and believe she is an inspiration to us all and deserves to be recognized for all the good she does, no matter what challenges she faces."
Orona's leadership in the Just Because Christmas Project has made the organization much more efficient. Because of her, the group can do more with less each year. Laura spends her volunteer time on a wide range of tasks including filling out forms, compiling information, making phone calls, visiting businesses and churches, and shopping and searching for donors.
She has chosen to give her $1,000 Pay It Forward donation to the Just Because Christmas Project. The Legends ceremony will take place 5:30 p.m. Tuesday, January 10th, at Hernandez Middle School in Round Rock. Tino Hernandez, director of the Just Because Christmas Project, and Williams will provide additional background on Orona and her achievements. Alan McGraw, mayor of Round Rock, will present Orona with a memento book and present her with her check.