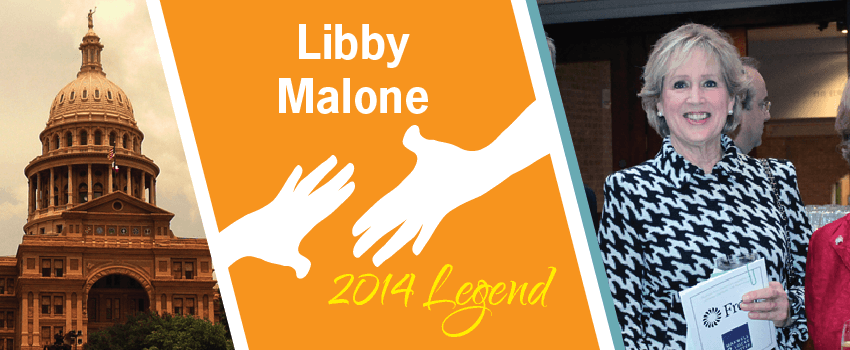 A true nonprofit champion, Libby has touched thousands of lives in Austin's nonprofit community over more than thirty-five years, leading organizations like Greenlights for Nonprofit Success, A Legacy of Giving, Junior League of Austin and the St. David's Foundation.
The greater Austin area is no doubt a better place to live and work thanks to almost four decades of Libby Malone's drive and determination.  Helping launch and lead such prominent Austin nonprofit organizations as the Junior League of Austin, Austin Community Foundation, Leadership Austin and Greenlights for Nonprofit Success, Libby's years of guidance can be felt throughout the entire nonprofit community. Greenlights not only presented Libby with their inaugural Community Leader of the Year award, but chose to name the award after her.
"One of the things that I admire the most about Libby, besides her passion and enthusiasm for the community, is how much she cares about the people that she's working with," says Toya Haley, longtime acquaintance and fellow philanthropist.  "She always makes a point to reach out to other volunteers, or to people who want to learn from her.  She encourages them, and brings them along with her.  I was one of those people that she reached out to, and it's been an enriching thing in my life to learn from Libby, volunteer side-by-side with her, and to grow together with her."
Libby's most recent philanthropic endeavor is an organization called A Legacy of Giving, an educational program for students in K-12 focusing on philanthropy.  Fully integrated with the AISD curriculum, as the founding chair of the organization Libby helps teach children of all ages learn about the value, the importance and the power of philanthropy, and how each of them can make a difference in the community.