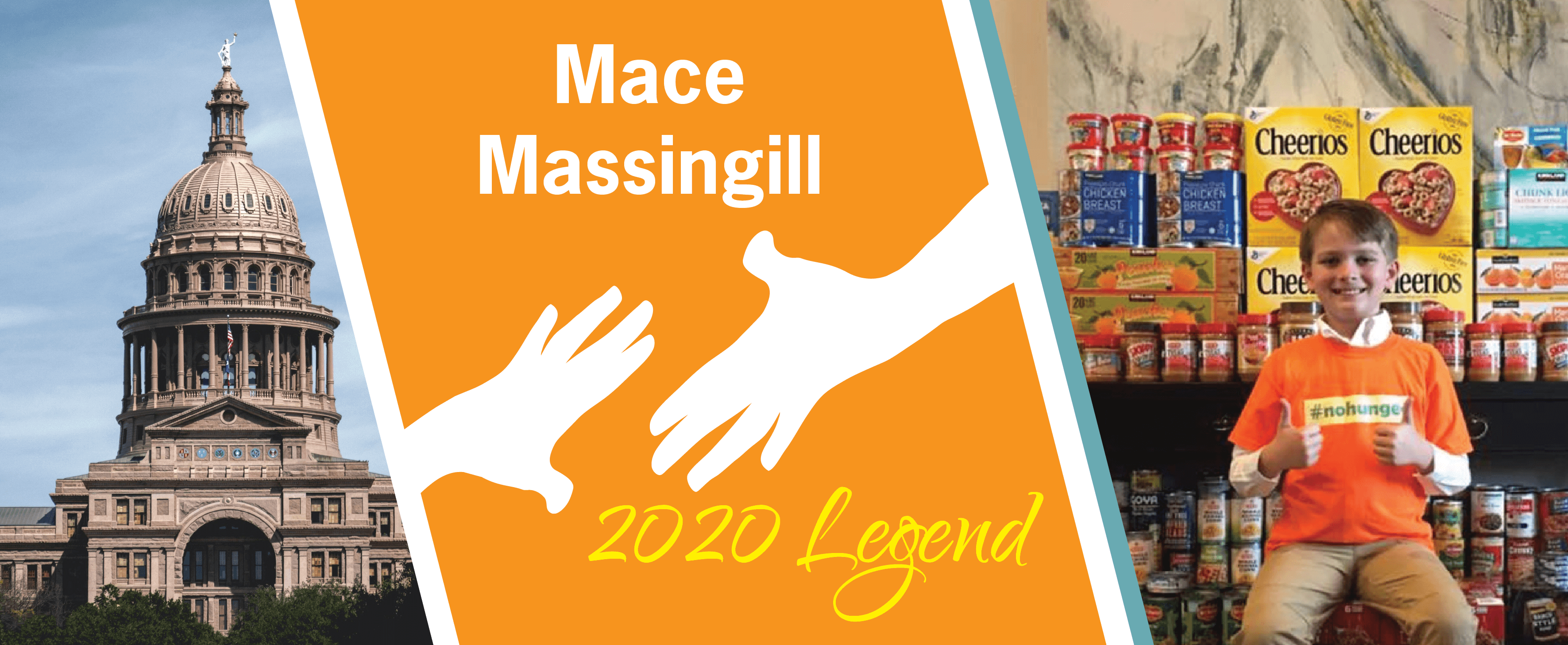 One million meals donated before the age of 13.
Mace is a 13-year-old "hunger fighter" who turned his Thanksgiving experience into a determination that has allowed him to serve over 1 million meals for our community.
Half a lifetime ago – or 6 years ago if you're Mace Massingill – his family encouraged guests to bring food donations to their Thanksgiving. Mace went with his mother to help drop off their collected donations to Central Texas Food Bank, which allowed him to come face-to-face with the reality of how many families go hungry and how much more could be done. His contributions that day fed 147 people, but he wanted to do more. Mace set a goal to raise 1,000 meals by the end of the year, and not only met that goal in a few short weeks but ended up exceeding five times that number of meals.
Central Texas Food Bank's mission is to help the hungry in the community. The organization works to combat the challenges our economy poses to clients that rely on food pantries for food assistance. Together, Central Texas Food Bank feeds an average of 200,000 individuals a month and dedicated volunteers like Mace help make this massive impact a reality.
Mace has been setting big goals each year, meeting and surpassing each one. He even has his own website to make it easier for him to collect food from others, as well as to help raise donations and awareness for the food bank. On his site, he accepts donations for the food bank and encourages others to host food drives to help his cause. Mace even volunteers to come to pick up the food and do the heavy lifting for anyone who participates!
"The thought of people having to go hungry, of not having food, of having to go through daily struggles just sounds horrible to me," Mace says. He keeps upping his goals each year and then continues to surpass them. This year, his goal was 315,000 meals – just enough to get him to his 1,000,000th meal. Mace pushed past that, by over 130,000 meals. As far as the future goes, Mace wants to continue helping in any capacity he can – he says he won't stop until there are no more hungry people!