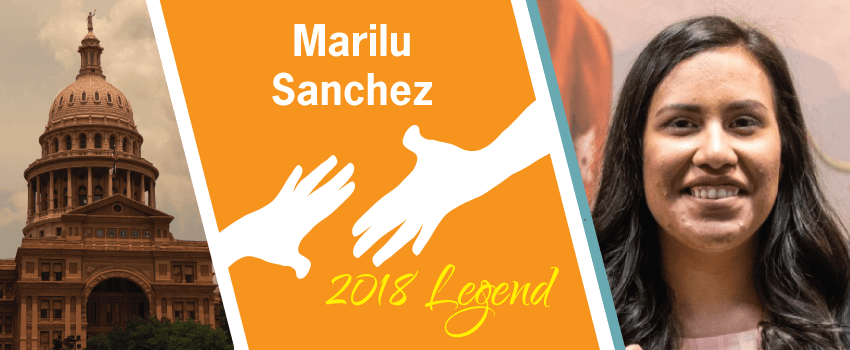 While studying for her degree in Human Development and Family Science (HDFS), Marilu Sanchez dedicated thousands of hours to others in need.
Marilu Sanchez didn't just graduate from the University of Texas (UT) in 2017 with a degree – she also graduated with thousands of hours of volunteer work under her belt: sitting with hospice patients, developing programs for foster children, working on neighborhood restoration projects, and serving the homeless.
Sanchez is the first person in her family to attend college. She arrived at The University of Texas at Austin in 2013 from tiny Huckabay, Texas, near Stephenville. Her high school class had only 11 other students, and her first UT chemistry class had more people than her hometown. "My parents have been so supportive," says Sanchez. "They gave me much more than anyone could teach me because their values and hard work ethic made me who I am." In addition to her family, Sanchez credits her success to a number of groups and experiences on and off campus. Participating in the University Leadership Network, volunteering off-campus, and discovering the HDFS major in the College of Natural Sciences were all turning points, she says.
The University Leadership Network is a scholarship program that boosts leadership skills and provides experiential learning to 500 entering freshmen, working with them throughout their time at UT. Through her participation, Sanchez interned with UT Rec Sports' Civic Engagement Program. She eventually spent over 3,200 hours volunteering on more than 50 community engagement projects to clean up flood-stricken areas, help feed the homeless, and bring children on outdoor field trips. "Her greatest desire is to give someone an experience that they never believed would happen, in hopes that the experience may awaken their passion to pursue their dreams. She always strives to do more," expressed Rec Sports' Chris Burnett.
In her outreach work, Sanchez met foster children in group homes who had had few opportunities to explore nature. Compelled to do something, she worked with the Texas Parks & Wildlife Department at McKinney Falls to develop programs in archery, fishing, and even crafting from nature especially for these youth. Helping end-of-life patients is another passion Sanchez has. At a volunteer fair she attended her freshman year, Sanchez picked up a pamphlet about hospice care that introduced her to opportunities to get involved. Each year since, she has worked up to 14 hours a week, from clerical work and spending time at patient's bedsides to reading aloud or simply sitting in silence. "I wanted to give a little bit of comfort to people in their last moments and help with their emotional pain," says Sanchez. "I wanted them to feel like a person rather than a patient."
Because of her commitment to and leadership in community service, she recently received the Edward Guleke Student Excellence Award from the Texas Exes, the Outstanding Student Award from the Texas Parents Association, and the Tower Award for Outstanding Student Volunteer from the Longhorn Center for Community Engagement.
"You enter one organization on campus and then another door opens. I have a big picture goal, but I'm not going to do it with just one action. I'm going to do small things each day to change the world," she said. "I volunteer because others provided help that got me to where I am today, and I want to make sure that I am that person for someone else."
---