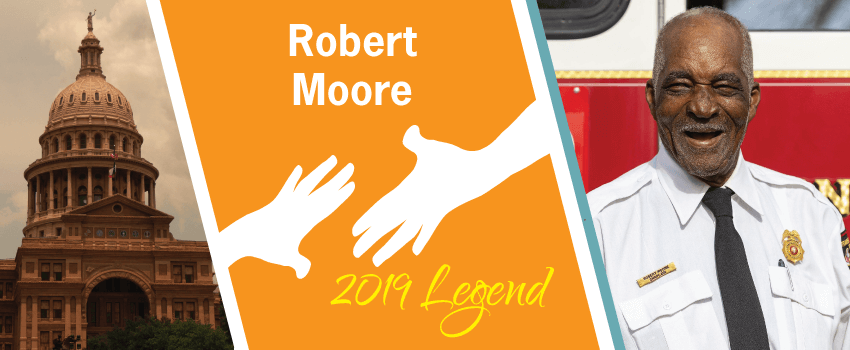 Still on the job well into his eighties, volunteer firefighter and honorary chaplain Robert Moore has impacted thousands of lives over the course of more than 20 years.
Still on the job well into his eighties, volunteer firefighter and honorary chaplain Mr. Robert Moore has been a fixture at the Travis County ESD 4 fire station for over 20 years and has positively impacted thousands of lives. One of the things those close to him constantly report hearing him say is, "Today I've got to find somebody to help." Austin Police Department firefighter Greg Hernandez, who has worked closely with Mr. Moore over many years, says that's Mr. Moore's motto – to help somebody every day. And he does. " Every time he shows up on a scene, things just get better," Greg says.
In the summer of 2017, when the Austin Fire Department and the Travis County ESD 4 merged, the firefighters who had long benefited from his calm demeanor, generous nature, tireless work effort and great cooking decided that they wanted to do something to acknowledge all the good Mr. Moore had done for them over the years. Greg organized a simple ceremony and they dedicated fire engine #48 as "The Red Rooster" in Robert's honor. Greg knows Mr. Moore on a very personal level, but he says that as he was putting the dedication together he was continually amazed by how many people had stories of Mr. Moore and the service that he had given in their lives.
Many years ago, Chief Don Smith asked Mr. Moore to be the firehouse's honorary Chaplain, and he graciously accepted. As Chaplain, Mr. Moore would offer spiritual support for the first responders, as well as guidance and support to families in the community – including those he would encounter on emergency response calls. In addition to the countless volunteer hours he's spent serving on response calls and as chaplain, Mr. Moore organizes an annual Christmas "sleigh ride" where it is estimated that over the past 20 years he has given out around 10,000 games and toys to the kids in the Travis County community. He spends all year collecting donation items to give out to kids at Christmas, and organizes the event by giving of his time and a lot of his own money.
Finally, in case you're wondering how this superhero got his moniker – it turns out that Mr. Moore has been known as the Red Rooster since birth, when the midwife who helped him into this world was paid for her service with a rooster!
---