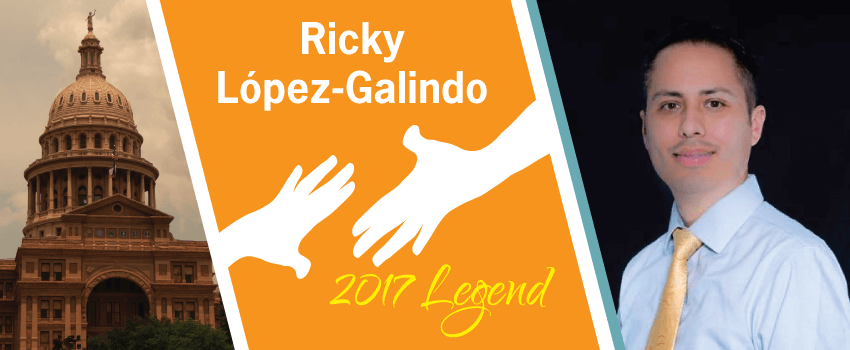 Ricky filled four full semi-trailers with supplies for Hurricane Harvey relief and delivered the load himself – but that's just one of the ways he's helping make our communities stronger.
Doing good can be contagious, and Ricky López-Galindo has experienced first-hand how once we start doing good it can prove impossible to stop. In the recent wake of Hurricane Harvey and the devastating flooding that claimed dozens of lives and displaced tens of thousands, Ricky rallied his friends and family to fill four full-sized semi-trailers with water, food, shovels, clean clothes, and cleaning supplies. His group even found 300 shop vacuums, which are immensely vital tools for flood cleanup. The noteworthy thing about this immense effort though, is that it was just another milestone on a journey of goodwill that started for Ricky in 2014.
Three years ago, Ricky was attending Austin Community College and was motivated to coordinate a back-to-school backpack and school supply drive for kids in his community. Using his charismatic personality and the power of social media, Ricky and a few friends were able to fill 800 backpacks full of pencils, folders and notebooks. Ricky and his friends were hooked. Within just a few weeks, the group decided to keep their momentum going and coordinate a successful holiday pajama party for kids at Dell Children's Medical Center, providing over 100 pajama sets – and a great night – to those children in need. Ricky then decided to take the next step and start a nonprofit focused on providing scholarships to the kids in his community, and Apoyando a un Angel Foundation was born. Ricky's foundation raised over $10,000 in scholarships at their very first event.
"In a very short time, Ricky has gained my admiration and profound respect in what he has been able to accomplish for the community," says Will Williams, former RecognizeGood Legend and state-wide volunteer award winner.
Ricky's efforts for survivors of Hurricane Harvey came just two days after that successful kickoff event – even after a wonderful success to support higher education for underserved students, he and his supporters were already thinking about giving more. "Just when I think I couldn't be any more blessed in life, I met Ricky and his group," says Williams. "[They] have become more than friends to me – they've become family. This young man is the best I have seen."
---