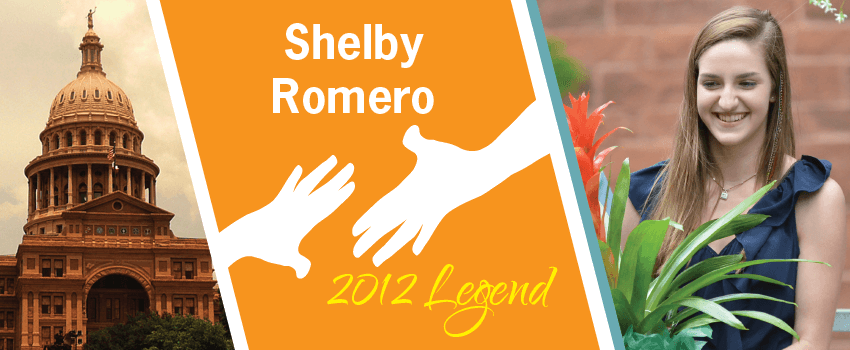 As a 15 year old sophomore, Shelby single-handedly organized the collection of 8,658 books – the largest drive in the history of Dell Children's Medical Center. 
8,658 books. That's how many books a single person managed to collect and donate to the Dell Children's Medical Center. Shelby Romero, as a 15 year old high school sophomore, single-handedly organized Dell's largest book donation for hospitalized children. That is why RecognizeGood named her the April Legend of 2012.
At a ceremony held at Dell Children's Medical Center on April 12, 2012 at 4:00 p.m., Shelby shared her story. "A few years ago I came to visit the hospital and we took a tour and we went to the library part of the hospital. They were telling me how, when the kids come in, they give them two or three books so it gives them something to do while they are in the hospital. They said they were in need of them," said Shelby. "After a while, we kind of got the idea that we can go to Barnes and Noble and we can get them to maybe help us out and do a holiday book drive." With each patient receiving two or three books, Dell's Children's Medical Center can go through 300 books a month. Shelby saw this need and contacted all six Barnes and Noble stores in Austin to sponsor the book drive. Shelby said, "First it was just going to be a book drive and then they were nice enough to let us have the entire month of December and we raised 8,658 books." She excelled at motivating her community to participate in the drive by talking to the principals and leaders of student organizations around Austin to gather volunteers. She arranged for 500 volunteer slots for each week. At each Barnes and Noble store, the volunteers would distribute a card that the hospital had designed to advertise for the book drive. This encouraged shoppers to go buy and donate on the spot, or to bring back books from home. Each time a book was donated Barnes and Noble would ring a bell at the check-out counter to celebrate the good deed.
"She's a phenomenal girl. She put together a spreadsheet so people could go online and sign up for the volunteer shifts and sent us emails letting us know when volunteers would be coming to pick up the books. She was on top of it," praised Charley Carroll, community relations manager at the Arboretum Barnes and Noble. Speaking about Shelby was Dr. Gillian, the superintendent of Hutto Independent School District. Presenting Shelby with her awards and Pay-It-Forward donation was Diane Holland, Mayor of Hutto. In addition to her work on book donations, Shelby is a member of the 4-H club and a community service officer in her Hoofpicks club "Well really on the weekends we were really busy calling up schools, emailing and also during the week. It keeps you busy," said Shelby.