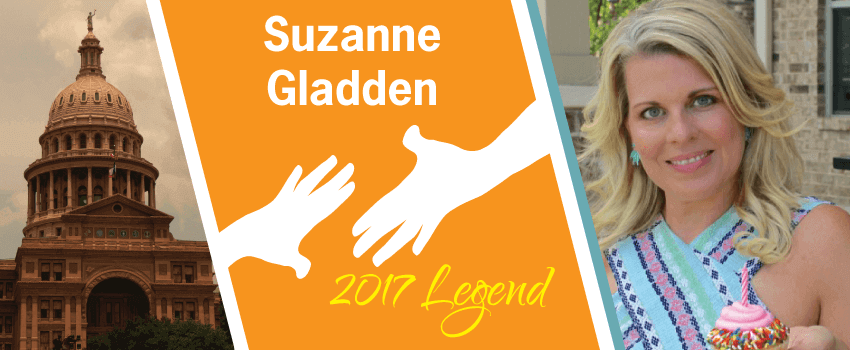 After what started as a whim, Suzanne Gladden has been responsible for providing birthday gifts to nearly 1,100 homeless and foster children who would otherwise have gone without.
Like most moms, Suzanne Gladden knew how excited her young daughters became when their birthday was near. "They love their birthday party," said Suzanne, a former teacher who is now a stay at home mom in Round Rock. "My kids start talking about the birthday party for next year the day after their birthday party." One day, while shopping for birthday presents, Suzanne started thinking about how lucky her two daughters were and wished she could find a way to show them that and teach them to give back. On a whim, she called the Texas Baptist Children's Home in Round Rock, which houses children and single mothers going through family crises, and asked what they did for children in their care during their birthdays.
The person speaking with her said they didn't have a budget for birthday events and relied on public donations. Then, Suzanne took a bold action. She committed to throwing a birthday party for every child in the home. "She said, 'Well, we have 100 kids,'" Suzanne remembered. But there was no going back. Suzanne committed and decided she was going to go through with her pledge. That was the beginning of Happy Birthdays.
Suzanne started asking her friends on social media for help in creating birthday boxes for children filled with decorations and gifts. In one month, she had found enough volunteers to throw birthday parties for the 100 kids at the Texas Baptist Children's Home, she said. From then, the idea kept on growing and Suzanne has been running the completely volunteer-based organization since November 2014. The group and its approximately 500 volunteers have delivered birthday gifts to nearly 1,100 children from 15 different groups since then.
On the group's website, Suzanne has a "birthday calendar" where people can see a list of children who have birthdays on that month. Each child's listing will have their gender and age and sometimes a theme that the child would like for their party, like Pokémon, or gifts that they've requested. In that way, volunteers who want to sponsor a child can know what to get them. The group tries to have extra birthday boxes ready to go so that if a last-minute birthday comes up, she said, each child can still have some type of birthday celebration.
Danielle Quist of the Settlement Home for Children said she recently spoke to a girl whose face lit up while talking about her birthday box, which included a tiara, a zebra and other decorations. "Some of the children in our care have never had a birthday party before. When they come to us and fill out their birthday wish list, they don't know what to expect," Danielle said. "I'll hear the kids say 'Is that my birthday box?' and they get very excited! They know that it's coming, it's a really cool thing." Jan Gunter, deputy development director for the Austin Salvation Army, said the birthday parties also provide a sense of relief for parents in shelters who often want to do something special for their children's birthdays but don't have the means. "When you're a parent and going through something difficult it's a double burden, and so it's like the joy is doubled because you get to see this child with something really fun," she said. For Suzanne, it's simple. "I really just want to see every child feel special and feel like they're remembered," she says.
---