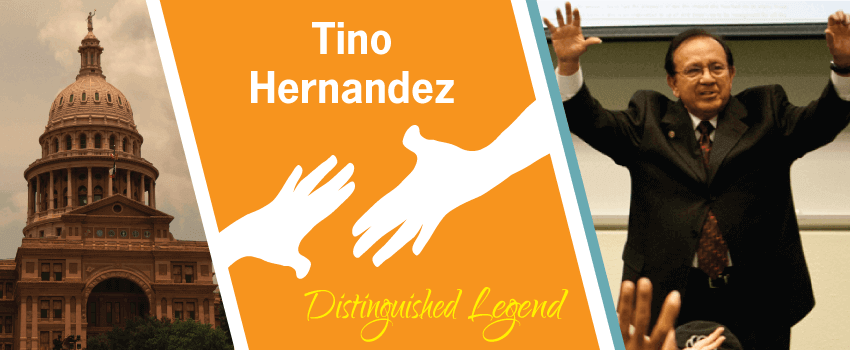 Distinguished Legend Award Winner Tino Hernandez has spent the last 45 years going above and beyond for others in our community. Providing Christmas to more than 15,000 families, orchestrating Thanksgiving dinner for thousands of our neighbors in need, leading medical missions to impoverished nations – Tino's impact is undeniable!
"I think it's important for young people to see how much of an impact they can make in their community. This was especially true of my kids and team members who will carry the torch forward."
---
To the Recognize Good Foundation:
I have been asked to say a few words on behalf of my longtime friend, Tino Hernandez. When I first arrived in Round Rock, Texas a little over 15 years ago, I searched for community projects that I would like to join. The day I met Tino feels almost the exact same when I see him now. He has a sincere smile, a respectable handshake, and a heart the size of Texas. Instantly, we became family.
As I rolled up my sleeves to be a part of whatever Tino was involved in, I was instantly blown away. At year 1 for me, Tino was already at year 30 of community service. Honestly, who spends almost 45 years of their life in the service for others? In those 45 years, Tino has either joined or built organizations that serve the needs of local community members, as well as to our fellow human beings around the world.
With the help and loving support of Tino's family, this is the impact he has so far:
Just Because: A Hernandez Christmas project that has provided Christmas to 15,000 families over the past 40 years
As Tino's daughter was battling cancer, she noticed that numerous fellow cancer patients didn't have care bags like she did. A project was born with 800 bags full of blankets and teddy bears were distributed to cancer patients.
Each year Tino is personally involved with Annie's Way in making sure families have a Thanksgiving dinner. At least 130,000 Round Rock citizens have been served since his involvement.
Water For Africa: Tino served as a founding partner for this organization. Never again would African war lords force families to trade their sons or daughters for water. 50,000 water straws have been shipped overseas.
Spent 10 years of leading medical missions to impoverish foreign countries.
In partnership with ShareTheWill, he raised funds to provide Christmas for 1,000 families who are active duty soldiers.
As you can clearly see, Tino is a very busy person throughout the year.  However, he still makes time as a member of SERTOMA, Lions Club, Round Rock Collation and Amastor Club.
I can go on and on about the accomplishments and the impact he has on countless lives.  I consider myself extremely lucky that Tino took me under his wing in teaching me how this could all be possible. With all my love and respect, Tino Hernandez is by far one of the most amazing people I have ever had the good fortunate to call my friend.
Sincerely,
Will Williams.