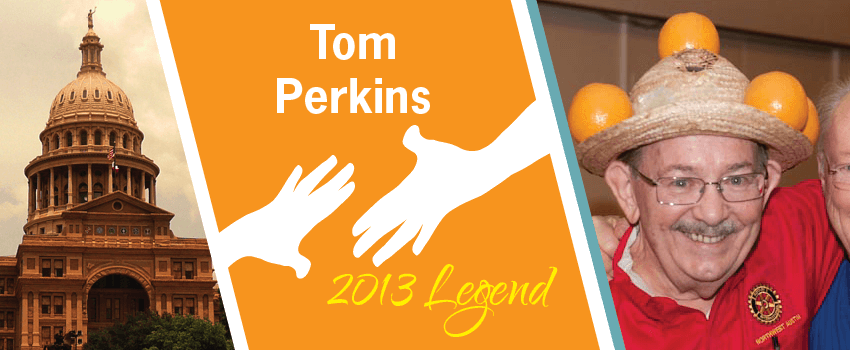 Leading fundraising activities for the Rotary Club of Northwest Austin, Tom's dedication has resulted in more than one million dollars being raised through the club since 1996. Every penny has been poured back into the community in the form of grants, scholarships and awards.
For many years Thomas W. Perkins has actively contributed his time and talents to enhance the ability of many community and international organizations to serve those that their mission is intended to address. Mr. Perkins, through the Rotary Club of Northwest Austin, led the fund raising activities for 16 of the past 18 past years. The Fruit Meister, as he is known during the fruit sale, is the spirit and motivation of the entire membership for this yearly fund raising activity. Each year he sets a goal for each club member and 80% of the membership reaches or exceeds his/her goal. His leadership has resulted in the Club raising of over $1,050,000 over the past 16 years. Each year the club gives back every net dollar in the form of scholarships, grants, and awards. In 2012 the club distributed fund in the following activities:
| | |
| --- | --- |
| Community Service | $23,700 |
| International Services | $24,300 |
| Vocational Services | $29,500 |
| New Generations Service | $11,500 |
| Total 2012 Gifts | $89,000 |
He is a past President of the Rotary Club of Northwest Austin, a Paul Harris Fellow Plus 2, named to the Rotary District 5870 Hall of Fame in 2003. This year he received, for the Club, the Rotary District 5870 Best Fund Raising Award. For many years he volunteers to be "Santa Claus" for the yearly Christmas Party for the Bluebonnet Trails residents. He leads yearly efforts to recruit volunteers to judge elementary school science fair. Tom Perkins exemplifies the Rotary Slogan of Service Above Self. Mr. Perkins is a retired Regional Manager of Moore Business Forms. He is an active member of Bethany United Methodist Church, the Searcher's Sunday School Class, and has served for many years as Head Usher for the all the church services. Tom Perkins is exceedingly deserving of recognition of the Recognize Good Award.
– Jim White