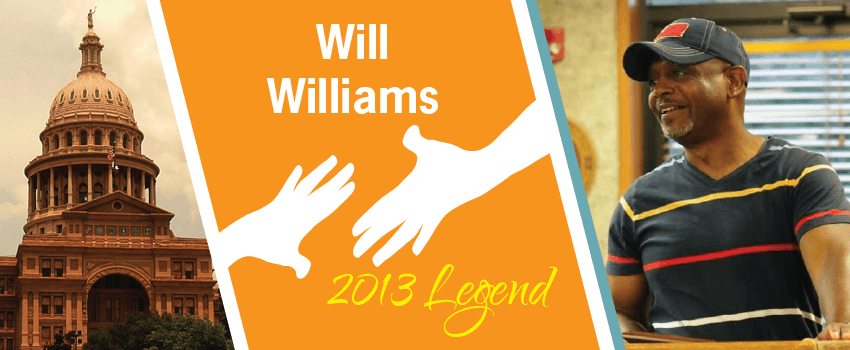 Through the Round Rock Sertoma Club, Will's innumerable service accomplishments include notable work with over 3,000 area children, more than 5,000 hours with Central Texas Neighborhoods, and enriching the lives of thousands of active and veteran military.
To Whom It May Concern:
The following information deals with the impact one individual can have on not only his community but a state and a nation. My name is Ron Clark and I have been given the greatest pleasure to share with you an individual I consider my hero. It is our hope that this bio on Will Williams will not only demonstrate the accomplishments but will inspire others to follow in his footsteps.
Mr. Will Williams is a fifty five year old husband married to Deborah Williams with three children and six grandchildren. His contribution to his country includes twenty one years of military service. During such time Mr. Williams has received thirty awards and ribbon including six time winner of soldier of the month. His modesty and friendship prevents me from mentioning such high honors. He has attended fourteen military schools. Mr. Williams has supported a variety of causes that have aided men, women, and children including the following:
Worked with 2,700 kids mentoring, coaching, and guiding a positive growth plan.
Worked with 47 students in "Having Problem at School" program.
Worked with Project Care to provide clothing and supplies to over 300 foster kids.
Worked with the School for the Deaf to help 30 special needs kids by sponsoring them to be in the First Parade.
Worked with Blue Star Mothers supporting mothers who lost a child in combat by assisting with over 100 graves of fallen heroes.
Organized a care package for the deployed soldiers of over 6,000 lbs over the last four years.
Worked with Hero's Night Out for the last 3 years assisting 1500 vets returning from combat.
Worked with the city of Round Rock supporting the first responders and veteran events.
Helped set up a mobile tent store for our military in Iraq with donated supplies from over 1,000 soldiers.
Worked with various groups to create snack bags for troops to take on the plane for deployment.
Dedicated over 5,000 hours of service to Central Texas neighborhoods, a neighborhood watch and helping agency with new community leaders.
Completed a 15 mile obstacle course after having knee surgery six months prior for the purpose of raising money for veterans.
In charge of growing a 4th of July Parade in Round Rock from 152 participates to 2,000 with 20,000 viewers featuring a strong military presence.
Received Service to Mankind Award for Local, District, and Regional Sertoma Clubs and Sertomas of the Year Award.
In 2013 helped raise $50,000.00 for Dell's Children Hospital and over $10,000.00 for Ronald McDonald House.
Worked with project "Just Because" to supply Christmas for over 500 military families.
Received leadership award from the "Heart of Texas Award".
Organized a food drive for the Round Rock serving center of over 500 lbs of can goods.
Worked with Trinity Care Center to provide help with outside garden for 100 seniors.
Will Williams is one person you can count on in any situation. My name is Ron Clark, Director of Operations for The Last Responders and I am one of sixteen people that joined Sertoma of Round Rock due mostly to Will and I live in Austin, Texas. I consider Will a friend and the one person I would never hesitate to help in any cause he recommended. He is truly a special person with a caring heart and the will to fulfill the needs of others before self. I am aware of no award above his deserving accomplishments.
– Ron Clark
---
UPDATE OCTOBER 14, 2015: Will has received the Governor's Lone Star Achievement Award, which recognizes the service of an individual who has volunteered for a minimum of 15 years! Another amazing recognition for an amazing person. Here's the full story: http://www.statesman.com/news/news/local/round-rock-community-leader-receives-governors-vol/nntMj/