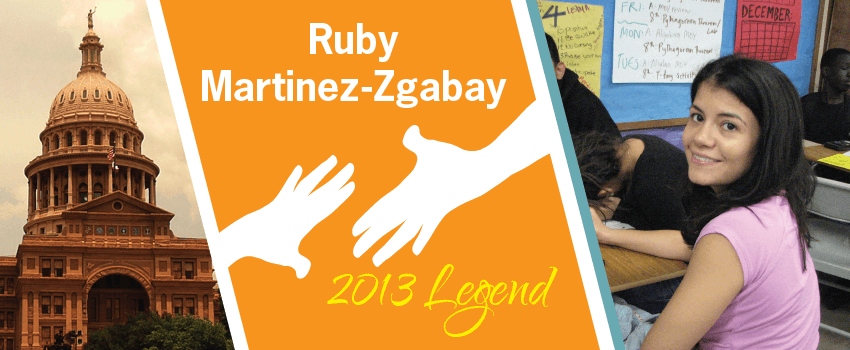 Ruby not only dedicated countless hours as a Classroom Coach through Austin Partners in Education (APIE), but encouraged and organized her IBM colleagues to do the same – making APIE eligible for extra IBM grants in the process.
Austin Partners In Education Executive Director Cathy Jones:
"The APIE Volunteer Champion award was created so that we could honor someone who not only has longevity as an APIE volunteer, but who also has great enthusiasm and positivity. It is for a volunteer who stands out among others; someone who goes above and beyond—this year's recipient is certainly all these things and more! Our APIE Volunteer Champion is Ruby Zgabay. Ruby has volunteered with APIEfor 3 years now. For most APIE volunteers that would mean three assignments, supporting one group of students per year. Ruby will complete TEN assignments with APIE this year. She volunteers in our 2nd grade programs as well as our middle school programs and she coaches both reading and math. As an IBM engineer, she and a small team of her colleagues have championed the APIE program internally to encourage their co-workers to get involved. As a group, these IBM engineers have adopted whole classrooms and brought middle school students to the IBM campus to witness first hand why math is both important and fun. Finally, Ruby has graciously made APIE her cause and has written grants on behalf of APIE to help us secure funding from IBM. Ladies and gentlemen, please help me thank Ruby Zgabay for her support of our students and programs."
And, finally, here's a wonderful write-up on Ruby that appeared in an APIE newsletter last year or year before:
In March of 1999, 16-year-old Ruby Zgabay stepped foot on the campus of Reagan High, terrified and unable to speak any English. Ruby and her parents had just made an arduous journey from Cuba as political refugees seeking asylum in Austin. Today Ruby, an electrical engineer with IBM and APIE Classroom Coach, looks across the small school desks at the struggling faces of young English language learners, and remembers her youth. "My mother always spoke her mind. Everyone loved her. She had her degree from University of Havana in Cuba and my father was a chemist. Everyone I knew in my family had education – they had all been to college," she recalls. "My mother studied English Literature in college and could speak English – which is never spoken on the streets in Cuba – she worked in the diplomatic sector for embassies – first Nigeria, then Cuba, then the equivalent of a U.S. Embassy –the Section of Interest they call it, because there is not an official U.S. Embassy in Cuba." Ruby recalls that in order for her mother to work for a diplomatic agency both that agency and the Cuban government had to agree. At first Ruby's mother had the necessary approvals for employment. Over time, her mother's attempts to remain silent against the communist regime failed, and Ruby's parents dissented publicly. Though the 'embassy' begged to keep her, the Cuban government insisted Ruby's mother be fired.
Ruby was shielded from much of the government's backlash, in part because she was away at government-mandated boarding school. "When children are in 9th grade they move away to live at the government school so their parents can't influence them," she recalls. "We'd get a weekend off every few weeks." In hindsight Ruby realizes she received a valuable education alongside a large dose of communist indoctrination. She studied computer language and coding, though she had never seen a computer. "There was no technology available to us in Cuba," she says. "You never see a computer in a house or school. I did my work with pencil and a legal pad." One day Ruby received quiet, brief instructions from her mother to get a passport picture. The next thing she knew the family was speaking nervously to staff at the Section of Interest, reviewing files of possible relocation cities. "It all looked the same in the files," she remembers. "But, we chose well. I can't imagine living any place better than Austin." Opportunities at new lives do not immediately spring from repression to joy. When seeking asylum one leaves without words and takes nothing. "You don't get to say goodbye to family, grandparents, cousins, and friends. You just disappear one night," Ruby explains. "The secrecy is very hard, but if you tell, word leaks out and you will be jailed or worse. After we left we viewed the government file about us and saw all the information neighbors and friends had given the government. It was heartbreaking. We wrote hundreds of letters to loved ones letting them know we made it, hoping one might accidentally get through. Every letter from the U.S. is intercepted and read. Few are ever delivered." Meanwhile the family settled into their first weeks with Caritas providing simple food and shelter in a strange new world. And for Ruby, the real journey began. "I had to learn English, and quickly," she remembers. "My library card is still the most valuable card in my wallet."
After a few months at Reagan she transferred to Lanier High where the principal agreed she had the education to place out of high school and asked her for her plans. She said she wanted to attend UT Austin. He advised her to enroll for a few years at the high school – first to learn English and to acquire an official GPA. "It was a struggle," says Ruby. "At first I refused to speak English. Then my mother banned all Spanish language radio, TV or books. I could only have friends who would speak English. I began to learn." Being an intelligent, quick study she also picked up language skills at the HEB grocery where she bagged groceries to help with family bills. She listened intently to customer conversations and began mastering phrases, though the U.S. propensity for brand names caused considerable confusion and anxiety. Before long she asked to be promoted to cashier, and then left to work for JCPenney in catalog sales providing interpretation services for calls from around the world. In the meantime she studied very hard and created the strong GPA she would need for application to UT. She recalls attending a high school session with UT students from the School of Engineering. Each gave a brief presentation about their field – and after a few presentations Ruby found her calling. "A student talked about electrical engineering, and I knew that was it. That was what I wanted to do."
In Cuba, college was free. Here in the U.S., her parents had no money to offer. After school let out each day she would wait in the career and counseling office until 5 for her parents to pick her up in the family's one car. She made allies by helping in the office where staff began suggesting Ruby think about scholarships. "My senior year I must have filed for every scholarship there was! The last few months we went from one award dinner to another as the scholarships were granted." Accepted to UT, she found the scope and size of the campus daunting. She realized to take full advantage of all the resources, especially the computer labs, she needed to swallow her fear and make the move to live on campus. So Ruby moved into a dorm and began to embrace technology, and eventually the full culture of university life.
Today she speaks as if she's lived in Austin all her life, talking about her teammates at IBM and the work they are doing on the testing, verification, and characterization of CPUs and servers. And three days a week she helps children in 2nd grade reading, 6th grade reading, and 8th grade math as a Classroom Coach. What advice does she have for students struggling to learn English and succeed in school? "I would tell them you have to keep trying. Sometimes in life it's hard to see why you are doing certain things, but it will make sense later. I didn't know why I was learning English. I didn't want to – I wanted people to learn my language. Sometimes you can't see the end goal – you just know you have to do it to be better. To be the best you can be, you have to push yourself. If you can't do it for yourself, then do it for someone else. When I couldn't do it for me I did it for my parents. I wanted to make them proud after they risked so much for me. I did it for my mother. She is so much more than I could ever be – so I tried to be my best for her. You just have to try hard – it's the only way to find your own strengths."
Ruby is one of more than 80 employees from IBM who volunteer weekly in APIE's Classroom Coaching program. You can tell why she's one of my truest North inspirations at IBM and elsewhere.
– Sandy Dochen