Relive the 2020 (Virtual) Ethics in Business Awards
Amit
Thanks to everyone who joined us for our 2020 (Virtual) Ethics in Business Awards presentation! We appreciate the patience many of you showed as we learned about and battled through technical difficulties with our attendee logins as the show was about to begin. We're thrilled so many of you stuck around to learn about our 2020 honorees and hear from our special guest speakers, but we're happy to provide the full event recording for anyone to replay the event or enjoy for the first time:
Thanks to our sponsors who continued to support this program despite our challenges and theirs this year.
TyRex Group
ABC Home & Commercial Services
Atchley & Associates
Five Stone Tax Advisers
Whorton Insurance
Texas Disposal Systems
Anita & Earl Maxwell
PSAV
CBS Austin
An extra special thanks to our extra special guest speakers:
Mayor Steve Adler, City of Austin
Fire Chief Joel Baker, Austin Fire Department
Bobby Jenkins, ABC Home & Commercial Services (our fearless, flexible host!)
Earl Maxwell, retired
Harold Ingersoll, Atchley & Associates
Misti Potter, Boys & Girls Clubs of the Austin Area
Jessie Everline, Baylor Scott & White
Amy Villarreal, CBS Austin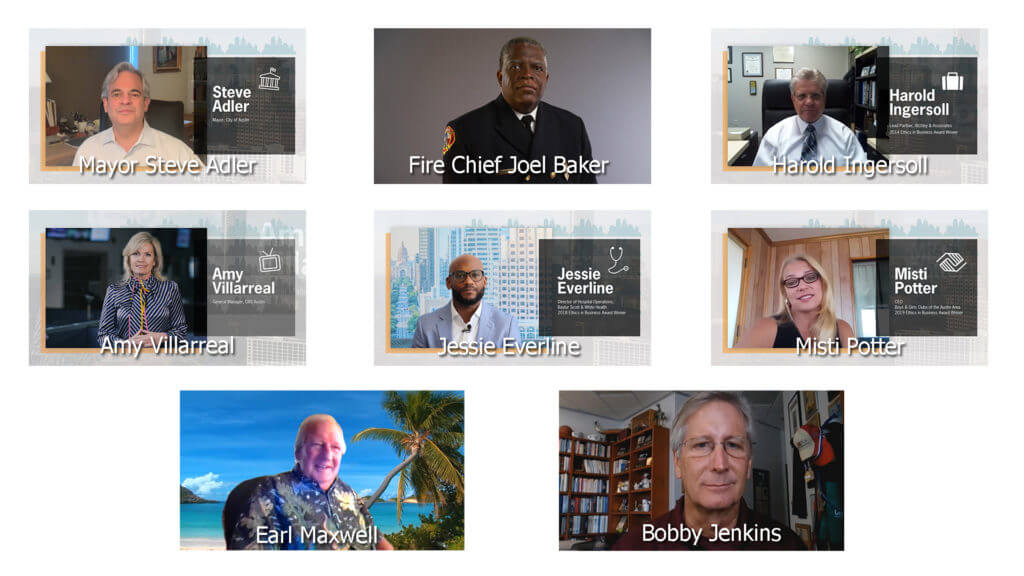 Stay tuned as we get started nominating, scoring and examining candidates for next year's Ethics in Business Awards!
---
Update: 8:00AM Tuesday, June 30th
RSVP if not already on our guest list: http://recognizegood.org/event-tickets/
Visit our virtual event site: https://recognizegood.psav.live/
Log in with your RSVP'd email address and the event password: ethics2020
Stick around after the show to join in a continuing discussion around ethical business as we break out into smaller networking groups! We'll be leaving the virtual event site for these discussions, and gathering in a Zoom meeting:https://us02web.zoom.us/j/5124569244?pwd=Si9zdHNWUVNqZ3BMSWZhVldKVzQrUT09
Meeting ID: 512 456 9244
Password: ethics2020
---
Remember, RSVPs are required to attend! We will plan to run a final sweep around 10:00AM. We look forward to joining you, virtually, and celebrating this 18th edition of our community's Ethics in Business Awards!
Ethical business leadership has never been under more duress than in these past months. RecognizeGood is no exception. With no full-time staff, we have undoubtedly struggled. As we continue steadfast in our mission to share great examples of goodness, we have decided to continue our 2020 Ethics in Business Awards luncheon but to postpone and take it virtual.
Frankly, we can't wait! We don't know about you, but we're ready to celebrate those in the Austin-area business community who go above and beyond to treat people well.
All tickets are free. Take an hour and join us, along with your whole business family and the rest of our business community, for an uplifting and positive focus on some of Austin's best.
New event date:
Tuesday, June 30, 2020
11:00AM-12:00PM
RSVP today and stay tuned for further event details!
2020 HONOREES
INDIVIDUAL
*Blake Absher, Truist
Emlyn Lee, BRAVE Communities
Mark Strüb, STRÜB Residential
NONPROFIT
OSD
*Thinkery
Well Aware
SMALL BUSINESS
Bloom Communications
Monkee-Boy
*Puracy
MID-SIZE BUSINESS
*DISCO
Radiant Plumbing & Air
Voltabox
LARGE BUSINESS
Samsung Austin Semiconductor
*Texas Mutual Insurance