After interviewing 15-20 Austin-area business leaders in a diverse range of industries, sizes and geographies for this year's Ethics in Business Awards, I learned a few things. 
I've always found that shared values connecting many, if not most, business leaders together are nothing new – especially in the Austin area. Treat people well, be honest and fair. Be good. Do good. What those values look like in practice differs based on the industry, size, or even geography, of our business. Similar values, exhibited in different ways. Studying ethical leadership in the Austin-area business community has always struck me as juxtapositional – looking at our similarities and differences simultaneously, comparing them to one another. What different methods or values do I employ to earn trust if I'm a leader at a regional bank, or at a global manufacturer, or at a local landscaping service? And, what simple foundational value or tenet do all three share? What can I learn from others?
Since the outbreak of COVID-19, we've all realized that we have a lot to learn from each other as business leaders. A lot to study in how others are treating people during unprecedented times. And our ethics awards were right in the middle of it all.
Today, everyone in the business community is being assessed regarding how they treat people. How does that regional bank, that global manufacturer, that local landscaping service treat people NOW? No matter our industry, size or geography we're all either reaping the rewards of earned trust or duct-taping together the splintering caused by a lack thereof.
On one hand, the underlying values exhibited the same as any other year no matter the type of business or the leader's role I was chatting with – founders, middle management, marketing, human resources. The stories were the same – treat people well, and your business stands to benefit. On the other hand, this was … "during COVID!" Every thought or insight is strained through that filter of "during COVID!" And while the foundation was the same, the situation was (is) vastly different. It's simply not quite as easy to treat people well during COVID … or is it?
In the end, this turned out to be the most valuable business ethics lesson I've ever taken. Here's what I came away with, and I hope it helps at least one person:
Authenticity matters more than ever.


Reinforced during COVID by Samsung Austin Semiconductor, who shared about the excruciating lengths her leadership went to in order to make sure a vast and diverse workforce stayed in the know during a fearful time. People are scared, people are watching – your staff, your customers, your business partners. If you fake it, if you hide it, it could be devastating. You must communicate clearly, often, and transparently – you don't have to have all the answers, but you do have to address the situation. Even if that means acknowledging it could change in days, or even hours. Elaine Paez of Voltabox also told me flat-out, management's number one goal from the beginning was to make sure employees are comfortable coming to work – and it's paid off.

Listen to what your people are saying.

Reinforced during COVID by Well Aware, who listened to the needs of the hundreds of thousands in East Africa they'd provided clean water to and pivoted to hygiene programs. Not only are people watching what you do when things get tough, but they're assessing whether their leaders are listening to those around them. Are they acting on what they hear?

Embrace continuous improvement.

Reinforced during COVID by Radiant Plumbing & Air, who used this opportunity to try things they'd never had the time for. We're forced to prioritize sustainability now more than ever before – and maybe we should have all been prioritizing sustainability all along! We can't do it all, especially "during COVID," and if anyone expects us to, that's on them. We can, however, do all we're capable of doing and learn how to be ready to do more next time. If ever there were a time to break down red tape and innovate to be better in any given area, it's now. Bring those great ideas off your vision board and if they make your company better "during COVID" then shine a light on them. 

Trust the values you've already set.

Reinforced during COVID by Emlyn Lee of BRAVE Communities, who was used to figuring things out on the fly to be the biggest help to the people who needed it most – so she just kept doing that! If anyone thinks that a compliance code breeds great ethical business decisions, our current situation – where there is no template – proves that there's not. Box-checking makes us second-guess our values more than it helps us live them out, and if you've examined your business "during COVID" while looking at your normal checklist, you know exactly how unhelpful those boxes are today. Glenn Banton of OSD also made a business case that resonated with me during COVID more than ever before – having clear values set early, and sticking to them, simply allows you to move faster and do more than if you had to make decisions for the first time in every situation.

Always be serving.


Reinforced during COVID by Bloom Communications, whose first response was to reach out to their clients and find out what they needed.. Serve your foundation, serve your people, serve your community. In that order! Take care of what makes you, you, or you won't be around to serve anyone or anything. Find out where additional help is needed within your existing circles and give what you can. Then think ahead – if the community suffers, so does your business and so do your people. Look outside your circles and see the communities in need, and help there. Bonus points if you're clever enough to find projects or programs that serve more than one of the three – it has been done.

Pinpoint your purpose.

Reinforced during COVID by Monkee-Boy Web Design, who took a back-to-basics approach to remember who it was and take care of its people. Lean into this reset and use it as an opportunity to find, or reinforce, your purpose as a business. Or, as a business leader. Having the energy some of us get from being in the presence of other human beings zapped from our lives in an instant leaves us reminding ourselves why we love our companies, our teammates, our professions. It's a good time to remember. Mark Strüb of STRÜB Residential also gave me perhaps my favorite quotable quote of the entire year: "The leadership part, the decision-making, hasn't shifted or changed as much as how the weight is being felt – and the ripple effects. And I'm stepping up to it."
Joel Coffman – Executive Director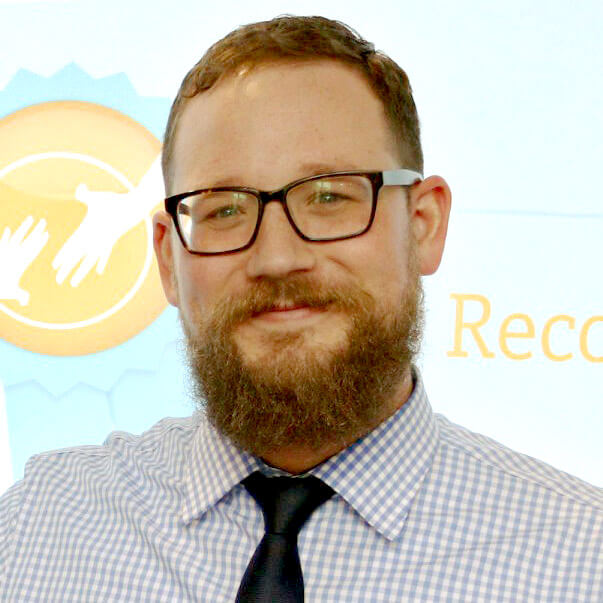 Joel Coffman is the executive director at RecognizeGood. He received a degree in Journalism and Advertising from the University of North Texas in 2008 and has grown with RecognizeGood and its for-profit partner the TyRex Technology Family since 2013. Joel's passionate about strengthening the Central Texas community through GOOD and his favorite part of the job is finding opportunities to connect those selfless servants he meets with each other and extend the "circle of good."